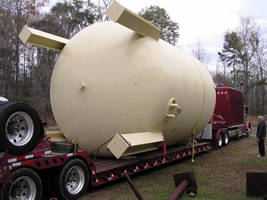 Savannah, GA - Ross Engineering Inc., a subsidiary of Charles Ross & Son Company, accepts a wide range of custom fabrication projects including chemical bulk tanks as large as 100,000 gallons.

Pictured is one of six 20,000-gallon vessels recently supplied to a polyurethane manufacturer. This vessel is designed and stamped for 50-psig internal pressure according to ASME Code Section VIII, Div.1 (latest edition). The interior of the carbon steel tank is lined with a chemical-resistant epoxy phenolic coating. Lifting lugs, caged ladder, 360-degree roof handrail, multiple size ports and an elliptical manway are also included.

Ross Engineering manufactures storage tanks, pressure vessels and reactors for a variety of applications. Commonly supplied features include:

o Vacuum and/or high internal pressure design

o Agitators and controls

o Heating/cooling jacket or coils

o Heat tracing

o Sheathing and insulation

o Vents and overflow pipes

o Polished sanitary design

o Special coatings and tank liners

o Aside from ASME, other code requirements such as USFDA, BISSC, ABS, API650, API620 and U142 can be met.

contact Seavy O'Neal at 912-238-3300 / 1-800-524-7677 or soneal@mixers.com. Ross Engineering, Inc. is located at 32 Westgate Boulevard, Savannah, GA 31405.

More from Packaging Products & Equipment