Chelsea Building Products Announces Partnership with Hood Distribution for Everlast® Advanced Composite Siding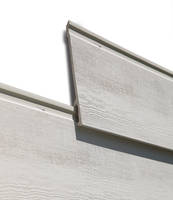 OAKMONT, PA (November 29, 2016) - Chelsea Building Products, Inc. is excited to announce apartnership with Hood Distribution that will greatly increase the reach and availability of its Everlast® Advanced Composite Siding in the Northeastern United States.
A leading distributor of high-quality building materials since 1855, Hood Distribution consists of two operating groups: the McQuesten Group and the McEwan Group. The McQuesten Group, with locations in Vermont, Connecticut, and Massachusetts, will be responsible for supplying Everlast® to wholesale and retail lumberyards, and to specialty one-step distributors in the Northeast market.
"We could not have picked a better distributor for the Northeast Region," says Gary Hartman, Vice President of Sales and Marketing for Chelsea Building Products. "Hood Distribution is extremely professional, well-connected, and well-known. We are excited to supply the Everlast® product to a group with such an outstanding reputation. Their energy and expertise, combined with our game-changing product, will yield great success for both companies."
Hood Distribution supports independent retail lumberyards and specialty one-step distributors in the Northeast region with high-end, premium building materials, including hardwoods, softwoods, exotic species, vinyl, and composite products like Everlast®. Over the years, customers have come to depend on Hood Distribution for many of their product needs. They place a great deal of trust in the quality products and unmatched customer service that the company provides throughout New England and all of NY, NJ, and Eastern PA with multiple deliveries per week.
Now with an inventory of Everlast® Advanced Composite Siding, Hood Distribution can offer a game-changing product that has been in high demand by its customer base.
"Hood Distribution is thrilled to be partnering with Chelsea Building Products in the Northeast," says Brad Wanzenberg, Director of Sales and Marketing for Hood Distribution. "Our management and selling teams are excited about the opportunities that Everlast® will bring to our existing customer base, as well as those in new segments and channels that we will approach. The Everlast® product lineup brings compelling value to the siding segment, and will be a welcome addition to our growing portfolio of exterior products."
Everlast® Advanced Composite Siding is produced from a proprietary composition of inorganic minerals, polymeric resins, and acrylic colorants, providing strength, durability and ease of installation without sacrificing performance or attractive curb appeal. Everlast® is light, easy to cut, and easy to install. The siding is available with Everlast® color-matched trim made from the same material as the siding, but is compatible with many other trim accessories on the market.
For more information about Hood Distribution, visit http://www.hooddistribution.com.
Since 1975, Chelsea Building Products, Inc. has been designing and extruding PVC and composite profiles for the building materials market. From its headquarters in Oakmont, PA, Chelsea Building Products is an integrated manufacturer providing product design, material development, extrusion tooling technology and finished product to manufacturers and distributors throughout North America.
Chelsea Building Products
565 Cedar Way
Oakmont PA 15139
4128268077
http://www.chelseabuildingproducts.com/
Nick Murosky
LarsonO'Brien
Director of Public Relations