Check Valves are suited for vacuum operations.
Press Release Summary: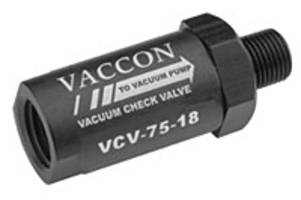 Vacuum check valves work with venturi vacuum pumps and switches to seal and maintain vacuum levels. With cracking pressure rated at less than 1 in. Hg., they allow air flow in one direction only. Valves can be manually operated or automatically controlled by vacuum switch. Able to be used in any orientation, valves come in 1/4 and 3/8 in. NPT sizes and are made of chrome plated brass with plastic/metal spring.
---
Original Press Release:
Vaccon Check Valves for Safe, Energy Efficient Vacuum Operations
Vaccon Company, Inc. of Medfield, Massachusetts introduces a new line of vacuum check valves that work with venturi vacuum pumps and switches to seal and maintain vacuum levels for safe, energy-efficient vacuum applications. Vaccon check valves are ideal for many vacuum applications including holding vacuum while molds cool down, keeping moisture out of hoppers containing resins, pellets or powders, and for providing stable vacuum levels for clamping operations. In addition, Vaccon check valves add an extra safety measure when holding and moving heavy materials. Vaccon check valves allow air flow in one direction only. Once the vacuum pump reaches the required vacuum level, the switch shuts the pump off while the check valve maintains the vacuum level, thus minimizing the compressed air consumption of the vacuum pump. If the vacuum drops below the pre-set level, the pump automatically restarts. Vaccon check valves are efficient, energy saving devices, that only use compressed air when needed. Vaccon check valves have a low "cracking" pressure of less than 1"Hg. The lower the cracking pressure, the higher the vacuum level maintained. The Vaccon check valve can be manually operated or automatically controlled by a vacuum switch. They are small, light-weight and can be used in any orientation. Vaccon check valves come in two sizes 1/4" and 3/8" NPT and are made of chrome plated brass with a plastic/metal spring to hold it closed. For more information, please contact: Ellen Ferri -Vaccon Company: Tel: (508) 359-7200 Fax: (508) 359-0177 email: ellen@vaccon.com. P.O. Box 324, 32 Rear Spring Street, Medfield MA 02052; Tel: 508-359-7200; Fax: 508-359-0177; email: info@vaccon.com
Contact This Company Download Spec Sheet
More from Fluid & Gas Flow Equipment