Check Valve provides water hammer relief.
Press Release Summary: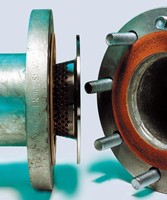 Offering water hammer relief and tight non-return shut-off for existing flanged piping systems, Stop-Silent® AS 54 features retrofit design for direct implementation without structural or housing alterations. Solid-state valve is comprised of stainless steel perforated cone and rubber membrane. Suitable for use in water, oil, acids, and brines, valve has -20 up to +180°C temperature range and 232 psi max operating pressure. It handles fluids up to 10 fps and gases up to 50 fps.
---
Original Press Release:

Lasso's Stop-Silent® Check Valve for Flanged Piping Systems Provides Water Hammer Relief for Existing Installations



BASEL, Switzerland - May 5, 2008 - Designed to provide water hammer relief and tight non-return shut-off for existing flanged piping systems, Lasso Technik has introduced the Stop-Silent® Check Valve AS 54 Model. The unique retrofit design can be implemented directly into a flanged pipe system without structural or housing alterations, providing a cost-effective solution for system upgrades. Additional configurations are available to fulfill mounting requirements into fittings and standard unions.

The Stop-Silent AS 54 features a unique cone design that assures tight shut-off to prevent backflow of liquid or gaseous media. The valve has no movable mechanical parts and consists only of two components, a perforated cone in stainless steel and a rubber membrane. This innovative design eliminates water hammer and associated problems of noise and wear, resulting in quiet, noise-free operation. With no moving mechanical parts to wear, such as springs, bearings, or counterweights typically found in other types of check valves, the Stop-Silent Valve offers maintenance-free service life of up to 10 years. Other outstanding characteristics include quality construction, low cracking pressure, low-pressure drop, and ability to function simultaneously as a filter.

With its unique design, the Stop-Silent Check Valve provides an ideal, smooth operating solution for piping systems that require some form of fluid control where it is essential to maintain flow in one direction and automatically prevent flow in another direction. It is suitable for use in water, oil, acids and brines. Specific applications include water distribution, water treatment, chemical production plants, petrochemical installations, and food processing. Other consumer and commercial applications include use in washing machines, pumps and compressors, air-conditioning units, and ventilation systems.

The Stop Silent check valve is offered with choice of several diaphragm materials including EPDM, Nitrile (NBR) Rubber, Silicone, or Fluorine Rubber (e.g. Viton®). Performance characteristics include a temperature range of -20°C up to +180°C and an operating pressure of up to 232 psi. The valve can handle fluids up to 10 feet per second and gases up to 50 feet per second.

The AS 54 Stop-Silent Valve is available in sizes from 1.5" to 8" and provides simple in-between flange-mounting for piping, foot-valves, and pumping plants. Standard cones and valve sizes are also available from 1"- 8" with multicone valves in sizes from 6"-24."

For further information, contact Lasso Technik's U.S. distributor:
Great Western Supply Co.,10616-A Hempstead Hwy., Houston, Texas 77092; Tel: 713-681-4786, Fax: 713-681-8712; email: Harry Boudreaux at: hboudreaux@gwspipe.com or visit www.stopsilent.com.

More from Mounting & Attaching Products