Check Valve eliminates water hammer.
Press Release Summary: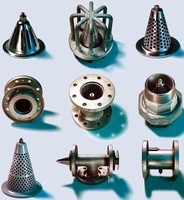 Stop-Silent® Series has cone design that ensures tight shut-off to prevent backflow of liquid or gaseous media while eliminating problems of noise and wear. Offered with choice of diaphragm materials, valve is constructed of 2 non-moving components: perforated stainless steel cone and diaphragm. Maintenance-free service is rated up to 10 years, and valve can function simultaneously as filter. With max operating pressure of 232 psi, product handles fluids to 10 fps and gases to 50 fps.
---
Original Press Release:

Lasso's Stop-Silent® Check Valve Eliminates Water Hammer and Provides Long Service Life



BASEL, Switzerland - Oct.17, 2006 - Lasso Technik has announced the immediate availability of the patented Stop-Silent ® Check Valve Series to the U.S. market. The Stop- Silent Check Valve features a unique cone design that assures tight shut-off to prevent backflow of liquid or gaseous media. This design also eliminates water hammer and associated problems of noise and wear, resulting in quiet, noise-free operation and long service life.

Offered with choice of several diaphragm materials and mounting styles to meet varying application requirements, the Stop-Silent Check Valve is suitable for use in a wide range of applications including water distribution, water treatment, chemical production plants, petrochemical installations, and food processing. Other consumer and commercial applications include use in washing machines, pumps and compressors, air-conditioning units, and ventilation systems.

"A common problem with typical mechanical check valves is that they cause hard back-kicks, or water hammer, and the valve seat can become worn after only a short period of time," explains Doris Rohrer, Lasso's Sales Office Manager. "Our Stop-Silent Valve's unique cone design eliminates hammer, creating longer service and lower maintenance costs, while also eliminating the noise that goes with it."

The valve's service life is further extended with its simple construction of only two non-moving components - a perforated stainless steel cone and diaphragm. With no moving mechanical parts to wear, such as springs, bearings, or counterweights typically found in other types of check valves, customers can expect a maintenance-free service life of up to 10 years. Other outstanding characteristics include quality construction, low cracking pressure, low pressure drop, and ability to function simultaneously as a filter.

The corrosion-resistant valve features a temperature range of -20°C up to +180°C and an operating pressure of up to 232 psi. The valve can handle fluids up to 10 feet per second and gases up to 50 feet per second and is suitable for use in water, oil, acids and brines. Standard cones and valve sizes are available from 1"- 8" with multicone valves in sizes from 6"-24." The Stop-Silent Valve series comes in several configurations to meet a variety of mounting requirements, allowing for easy installation into fittings, standard unions, or between flanges. Diaphragm materials are available in EPDM, Nitrile Rubber, Silicone, or Fluorine Rubber (e.g. Viton®).

"To our knowledge, no one else offers a check valve offering this smooth, hammer-eliminating/maintenance eliminating operation," says Rohrer. "With Stop-Silent's wide popularity in Switzerland, we are certain that new customers in the U.S. will quickly find it equally as beneficial for their applications."

Lasso Technik Inc. was founded by Albert Schale in 1941 in Switzerland and is run today by the third generation. The company's headquarters are in Basel, Switzerland. For further information, contact Lasso at: www.stopsilent.com, e-mail: doris.rohrer@stopsilent.com, or call (714) 717-5271 in the U.S., or
++41 (0) 61 331 40 90 in Switzerland, or Fax ++41 (0) 61 331 42 76.

All trademarks are properties of their respective companies.
Viton is a registered trademark of DuPont Dow Elastomers

For more information contact:
Cia Communications, Inc. (USA)
Cynthia Guardia
(714) 998-9255
e-mail: cynthiaguardia@adelphia.net

Lasso Technik Inc. (Basel, Switzerland)
Doris Rohrer
Sales Office Manager
Tel. ++41 (0) 61 331 40 90
e-mail: doris.rohrer@stopsilent.com

More from Machinery & Machining Tools