Chassis suits industrial automation platforms.
Press Release Summary: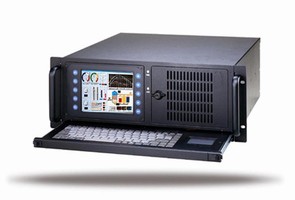 Combining LCD display, keyboard, touchpad, OSD control, function and cursor keys in single chassis, ATM-4233 is suitable for environment/facility monitoring and test and measurement applications. Computing platform with expansion capacity offers compatibility with Pentium 4, Pentium M, and Celeron CPU cards. Fourteen expansion slots enable use of any combination of ISA/PCI/CPU cards. Powered by ATX Standard supply, it features 2 USB ports on chassis front.
---
Original Press Release:

Advantech Launches All-in-One Industrial Chassis With High Computing and High Expansion Capacity



The ATM-4233 is an all-in-one industrial chassis at a price of $1,100

(Cincinnati, Ohio - 01/19/2006) - The Industrial Automation Group of Advantech introduces the ATM-4233, an all-in-one chassis for industrial automation platforms. Traditional Industrial PCs need to be connected to a separate keyboard, mouse, and monitor to provide the appropriate user interfaces. The ATM-4233 conveniently combines LCD display, keyboard, touch pad, function keys, cursor keys and OSD control in a single chassis.

The ATM-4233 has a powerful computing platform with high expansion capacity. It integrates a video A/D board to ensure CPU card compatibility up to Intel Pentium 4, Pentium M (fanless), and Celeron CPU cards. ATM-4233's offers 14 expansion slots that can be used for ISA cards, PCI cards, CPU cards, or any combination of these. There are two USB ports on the chassis front and it has an ATX-standard power supply. Changing parts has been made easy by a mechanical design where you can remove the top cover and have quick access to all components.

The chassis has been equipped with five function keys to the left of the LCD. To the right of the LCD, there are five cursor keys that assist with moving quickly through menus and change settings. An 88-key slim-type keyboard with a touch pad is hidden in a pull-out drawer. OSD control is conveniently placed in front to easily alter LCD brightness and contrast. To prevent accidental shutdowns, the reset and power buttons are placed behind a lockable door.

With all these features, the ATM-4233 is very suitable for environment monitoring and facility monitoring where the screen is not commonly used but is necessary for operators to take a quick check on equipment status. It also makes a perfect platform for Test and Measurement applications where testing equipment needs to be rack based and space conscious.

The ATM-4233 price is $1,100 and is available for purchase directly from Advantech by calling 1-800-205-7940 or from one of Advantech's North American distributors at eautomationpro.com/us.

Advantech Corporation, Industrial Automation Group - Founded in 1983, the Industrial Automation Group of Advantech Corporation is the only complete PC-based Industrial Automation Solution Manufacturer offering products such as Industrial PCs, Workstations, Panel PCs, Flat Panel Monitors, Heavy Environmental PCs, Customized PCs, Single Board Computers, Data Acquisition & Control Devices and Web-enabled products for a wide array of industries. Drawing on the talents of more than 1,800 people, Advantech operates an extensive sales and marketing network in 16 countries and 35 major cities to deliver fast time-to-market services to our worldwide customers. Today Advantech offers over 700 products and solutions, adding 30 new products each year. US operations for the Industrial Automation Group are based in Cincinnati, OH (877-294-8989). Advantech Corporation, Industrial Automation Group, 1320 Kemper Meadow Drive, Suite 500, Cincinnati, OH 45240. Website for Advantech customer's in North America: eautomationpro.com/us. Email: mailto:info@advantech.com http//www.advantech-eautomation.com/media

Chuck Harrell
Advantech Corporation,
Industrial Automation Group
(513) 742-8895 x333
website: eautomationpro.com/us


More from Services