Charging System bonds materials electrostatically.
Press Release Summary: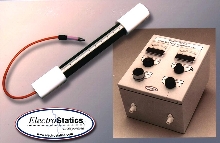 Model 3000 Autostat(R) uses forces of static electricity for adhering one material to another, such as temporary bonding of protective covering to metal sheets or wood paneling, spot pinning of over-wrapping material prior to heat sealing, edge pinning of web to einsure constant direction, and removal of air pockets during laminating. Power supply has variable output to insure highest degree of bonding necessary to complete holding process.
---
Original Press Release:
ElectroStatics, Inc., Announces Its New Model 3000 Ion Transport Electrostatic Charging System

The Autostat(R) Charging System, Model 3000 uses the latest technology for the temporary electrostatic bonding of materials. There is no need for adhesives or mechanical hold down to secure one material to another.

There are many applications where the forces of static electricity can be employed for the purpose of adhering one material to another i.e.:
- Temporary bonding of protective covering to metal sheets, wood paneling, glass, etc.
- Spot pinning of over-wrapping material prior to heat sealing.
- Edge pinning of web to insure constant direction.
- Removal of air pockets during laminating.

The accompanying power supply has a variable output to insure the highest degree of bonding necessary to complete the holding process.

Contact ElectroStatics Inc., 1-888-782-8427 or email us at sales@electrostatics.com for complete details on how we can be of service.

ElectroStatics, Inc.
352 D Godshall Drive
Harleysville, PA 19438
215-513-0850 (tel) / 215-513-0855 (fax)
e-mail customer service - mj@electrostatics.com

More from Sensors, Monitors & Transducers