Charging Station Pedestal comes in ruggedized option. .
Press Release Summary: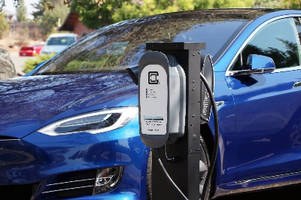 Featuring fully powder coated stainless steel construction, stainless steel machine hardware, and plastic bushings, PMD-10R Universal Pedestal is ruggedized for fleet, parking lot, coastal, and extreme weather environments. Unit supports 2 stations and two 120 V outlets (sold separately). Compatible with ClipperCreek ACS, HCS, and LCS product lines, pedestal doubles as electrical raceway with service ground lugs. Integrated cable wrap simplifies cable storage.
---
Original Press Release:

ClipperCreek, Inc. Introduces "Ruggedized" 100% Stainless Steel Version of the PMD-10 Charging Station Pedestal



Offers configurations starting at $1074 including pedestal, electric vehicle charging station, three year warranty, Made in America.



AUBURN, Calif., -- The PMD-10 Universal Pedestal, ClipperCreek's newest mounting solution for their line of popular electric vehicle charging stations, is now available with a "Ruggedized" option. The PMD-10R features fully powder coated stainless steel construction, stainless steel machine hardware, plastic bushings for ease of installation, and three year warranty standard. The PMD-10R is an affordable solution designed for fleet, parking lot, coastal, and extreme weather environments. The PMD-10 Ruggedized Universal Pedestal is offered at an excellent value of $695. It can be paired with any ClipperCreek ACS, LCS or HCS EVSE starting at just $1074.  The PMD-10R also supports the Tesla second generation Wall Connector.



"The PMD-10R is an exciting option for our new PMD pedestal lineup," said Will Barrett, Director of Sales for ClipperCreek. "This new addition rounds out the product family and allows our customers to select the best options to meet their specific application, installation location, and budget."



"We've had customers request a stainless steel pedestal for certain environments and applications," said Jason France, President and Founder of ClipperCreek. "Our commitment to the electric vehicle market drives us to bring the greatest value to our customers.  We felt it was important to offer an enhanced version of our universal pedestal, so we developed a powder-coated stainless steel option that will last for many years, even in the toughest environments. We stand behind this pedestal's durability by pairing it with a three year product warranty."



Some features of the Ruggedized ProMountDuo™ Universal Pedestal include:




100% stainless steel construction for superior environmental durability



Stainless steel machine hardware



Powder coated



No knockouts



Plastic bushings for ease of installation



Slim, modern profile



Operates as a single or dual mount pedestal out of the box



Pedestal doubles as an electrical raceway with service ground lugs



Supports two stations and two 120V outlets per pedestal (sold separately)



Compatible with ClipperCreek ACS, HCS, and LCS product lines



ADA height and reach compliant when installed to local codes



Charging station's integrated cable wrap makes storing the cable simple and convenient



Accommodates the low profile connector holsters that come standard with ClipperCreek charging stations, allowing storage of the vehicle connector out of the way and where it's most convenient



Three year warranty



Made in America



ClipperCreek customers are supported by an exceptional customer service team



The PMD-10R is available for purchase immediately at www.clippercreek.com or by calling the ClipperCreek customer service center 877-694-4194.



About ClipperCreek, Inc.: Founded in 2006 by Jason France, ClipperCreek is a worldwide leader in Electric Vehicle Supply Equipment (EVSE). The company offers a wide range of products designed to be the safest, most innovative, and grid-ready EV charging stations on the market. ClipperCreek advances the plug-in vehicle market and broadens the acceptance of the most exciting vehicle revolution in a century. The industry pioneers at ClipperCreek build more than 20 years of real world EV charging expertise into every EVSE they manufacture. All ClipperCreek products are Made in America. For more information, please visit www.clippercreek.com.



Media Requests: Suzanne Guinn 530-887-1674

Sales: 877-694-4194

www.clippercreek.com

More from Electronic Components & Devices