Charged Plate Monitor includes data acquisition mode.
Press Release Summary: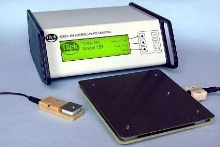 Suited for ESD-sensitive environments, Model 157 utilizes high-impedance, high-voltage follower to monitor ion collecting plate voltage. Fast Mode provides data acquisition rate of 1 ms/data point. Storage and retrieval capability enables test data to be saved and recalled. Monitor includes digital display, manual or bar code entry/reading capability, and USB port for PC interface, which allows test results to be uploaded/downloaded as needed.
---
Original Press Release:

TREK Introduces Enhanced Charged Plate Monitor


Software Enhancements to Model 157 Provide Data Storage, Retrieval and Acquisition Options

Product Responds to Market Needs in Semiconductor, Disk Drive, LCD, and other ESD-Sensitive Manufacturing Environments and Materials Testing Applications

4 August 2005, Medina, NY (USA) - TREK, INC. announces the introduction of its enhanced Model 157 Charged Plate Monitor. Software enhancements to this charged plate monitor now enable the storage and retrieval of data, and provide an additional data acquisition mode. These enhancements respond to market needs for more rigorous data management in semiconductor, disk drive, LCD and other manufacturing environments sensitive to electrostatic discharge (ESD). Model 157 is targeted for use in ionizer monitoring & testing and in other applications where static charge must be controlled by frequent and accurate measurements in order to assure worker safety, productivity and product integrity within an ESD-sensitive process. This charged plate monitor can also be used in materials testing applications, where the dissipative qualities of a particular material or product need to be evaluated and/or confirmed by monitoring the discharge rate through the material.

Specific applications for Trek's Model 157 include the testing of room ionization systems, AC and DC blowers, nuclear ionizers, gun type ionizers, and pulsed DC ionizers, as found in open air and cleanroom facilities. In materials testing, Model 157 is ideal for testing the dissipative qualities of products intended for use within ESD-sensitive facilities, including chairs, containers, placemats, floor mats, and related products. Trek's Model 157 is expected to be of interest in other environments where static charge is a concern, such as the assembly, processing, manufacturing and/or handling of electronics, powders, plastic, textile, paper, coatings and other materials in pharmaceutical, chemical, aerospace, automotive, medical/biotech, military and R&D applications.

The new storage and retrieval capability of Model 157 enables test data to be saved and recalled, including actual data points, graphical waveforms of the data, and operator comments about the test conditions or other parameters that need to be captured for future reference or validation.

The other new feature in Model 157 is the inclusion of a "fast" mode for data acquisition (1 ms/data point), in addition to the traditional "normal" mode (10 ms/data point). The "fast" mode allows users to record the discharge data at a very fast sampling rate, which is important for those needing to perform testing of rapidly-changing discharge events.

Trek's Model 157 Charged Plate Monitor continues to offer greater accuracy, stability and bandwidth (as well as remote positioning of the ion collecting plate) as compared to conventional monitor designs. Its patented precision charge measurement design utilizes an ultrahigh-impedance, high-voltage follower to monitor the ion collecting plate voltage. This provides very high accuracy readings with extremely low offset and drift. It also allows virtually infinite impedance loading of the ion collecting plate, while making measurement capacitance independent of physical size and shape of the plate. As a result, in addition to Trek's standard size ion collecting plates, customer-specific plates can be designed in order to match the physical and electrical characteristics of a particular ESD-sensitive device within a manufacturing process, or to meet the needs of other customer-driven specifications. The 0.1 V resolution of Model 157 is important for testing the balance of ionizers used for low level ESD control in the manufacture of extremely sensitive magnetic recording hard disk drives.

Other features of the Model 157 Charged Plate Monitor include a user-friendly menu system, clear and easy-to-read digital display, powerful graphics display, manual or bar code entry/reading capability, on-board data storage capability (that allows hundreds of test results to be stored), ability to generate custom test sequences and test reports, USB port for PC interface (allows test sequences and test results to be uploaded/downloaded as needed), optional thermohygrometer to record temp/humidity conditions, and small, lightweight static-dissipative enclosure/packaging which makes Model 157 not only easily transported within a facility, but also meets the needs of cleanroom and ESD environments.

Specifications for Model 157 include: DC accuracy better than 0.1% of full scale for voltage monitor output, bandwidth (-3 dB) of DC to 80Hz, less than 6 V per minute drift with time, and monitored voltage range of 0 to "b1020 V DC or peak AC. This model also meets the following standards: IEC 61340-2-1 Ed 1.0 2000: Electrostatics - Part 2-1; ANSI/ESD STM3.1-2000; ESD SP3.3-2000; and ESD ADV3.2-1995.

Standard unit pricing in the USA for Model 157 starts at $4400 US Funds. For details on specifications, customizing options or other information please contact TREK, INC. at 585-798-3140 or via sales@trekinc.com.

TREK, INC. (est. 1968) is a privately held company that designs, manufactures and sells high performance electrostatic measurement instruments, sensors & monitors, and high voltage amplifiers, power supplies & generators. Trek's products are used by OEMs involved in semiconductor manufacturing and electrophotography; in applications sensitive to electrostatic discharge (ESD); and by companies and universities involved in a wide variety of research applications, including electrostatics, electrophotography, piezoelectrics, electrohydrodynamics, and plasma chemistry. Customers include numerous Fortune 500 companies and leading universities. For more information call 585-798-3140, or go to www.trekinc.com.

More from Optics & Photonics