Champion Thermostat provides maintenance alerts.
Press Release Summary: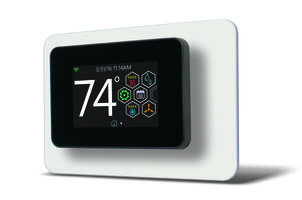 Featuring hexagon interface touch screen, Champion Thermostat is capable of connecting seamlessly to HVAC system using smartphones. Providing quick heat and cool, unit offers easy installation and energy efficient performance. Designed for high capacity cooling and heating, device sends alerts to homeowner when maintenance is required and provides contractor contact information through app.
---
Original Press Release:
Conventional and Connected HVAC Systems Communicate with Second Generation Champion® Touch-Screen Thermostat
Contractors can now sell a single thermostat solution across multiple product tiers thanks to the new second generation Champion® touch-screen residential thermostat from Johnson Controls. Smart technology allows the ENERGY STAR® Most Efficient thermostat to communicate with both conventional and connected HVAC systems, enabling contractors to offer homeowners a complete Champion home comfort system.
The new thermostat draws on Johnson Controls' deep expertise in building automation to ensure easy installation and optimal performance. Near field communication, a set of short-range wireless technologies and a dedicated distributor app, available on Android-equipped devices, enable contractors to preconfigure settings before arriving at a residence. They can also control fault features to help eliminate nuisance calls.
Homeowners will find the touch-screen proprietary hexagon interface easy to use. The thermostat also gives them the ability to seamlessly connect to their HVAC system via their smartphones or tablets. Additionally, a quick heat and quick cool feature for short-term, high-capacity heating or cooling helps the system reach set points more quickly and is optimized to provide ENERGY STAR® Most Efficient performance when connected to select Champion home comfort systems.* The thermostat also sends alerts to the homeowner when maintenance is required. For added convenience, contractor contact information can be uploaded and made available through the app.
For additional information, visit www.championhomecomfort.com/lxseries.
*When paired with Momentum™ AL8B024F4 (FC/MC48D+MV12D+TXV), AL8B036F4 (FC/MC62D+MV12D+TXV) and HL8B036F4 (FC/MC62D+MV12D+TXV) models.
For reader inquiries:
Ryan Nolan
Public Relations Program Manager
Building Technologies & Solutions, Johnson Controls
Work + 1 414 524 6170
Mobile + 1 414 378 9641
More from Material Processing