Chains suit conveyor and equipment-related applications.
Press Release Summary: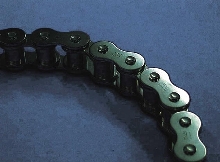 IWIS pre-tensioned chains include MEGAlife maintenance-free roller and conveyor chain, and CR (corrosion-resistant) chain. MEGAlife chain eliminates need for subsequent lubrication, avoiding possible contamination risks to systems and goods associated with chain lubrication in clean or dry environments. CR chain is made from hardened high-alloy steels and offers high strength and fatigue resistance.
---
Original Press Release:

IWIS High-Performance Chains for Industry Available from SKF Motion Technologies


A complete line of IWIS high-performance chains for industry is available from SKF Motion Technologies (Bethlehem, PA, USA). These precision chains are ideally suited for conveyor and equipment-related applications in a wide range of industries, including bottling, packaging, printing, paper, medical technology, electronics, and product manufacturing and processing.

Included among the many types of IWIS pre-tensioned chains are MEGAlife maintenance-free roller and conveyor chains and CR (corrosion-resistant) chains. Other special chains and accessories to meet application requirements complement the product line.

MEGAlife maintenance-free chains (roller and conveyor) eliminate a need for subsequent lubrication, which provides a solution where access for maintenance may be limited. These chains further avoid possible contamination risks to systems and goods associated with chain lubrication in clean or dry environments, including clean rooms. MEGAlife chains provide excellent wear characteristics (even at high speeds) and can be specified in a wide range of shapes, configurations, and with attachments to satisfy application needs.

CR high-performance chains are manufactured from hardened high-alloy steels and promote long-lasting corrosion resistance compared with surface-coated chains. They are engineered to offer higher strength and higher fatigue resistance than stainless-steel counterparts.

Contact James M. Brown, SKF Motion Technologies, 1530 Valley Center Parkway, Bethlehem, PA 18017-2266 USA. Phone: (800) 541-3624 (toll-free) or (610) 861-3712. Fax: (610) 861-3737. Web site: www.linearmotion.skf.com

(®SKF is a registered trademark of SKF USA Inc.)

More from Explosives, Armaments, and Weaponry