Chain Saws operate safely.
Press Release Summary: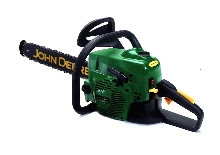 CS46 and CS52 Pro-Series(TM) have 45.01 cc and 51.7 cc engines with 3 and 3.4 hp, respectively. Each is available with 16 inch and 18 inch bars as option. Both saws come standard with compression valves for easy starting. For operator safety, each chain saw is equipped with an inertia chain brake, guidebar safety tip, and low kickback chain. Applications include limbing, pruning, felling small trees, and cutting firewood.
---
Original Press Release:
John Deere Chain Saws Tackle Serious Cutting Jobs
Pro-Series 7(TM) Power-to-Weight Ratios Among Best In Class John Deere Pro-Series(TM) Chain Saws are packed with power. These professional-quality saws offer impressive cutting speed, best power-to-weight ratio in class, ergonomic design and low vibration. Homeowners and professionals alike will find them unmatched for limbing, pruning, felling small trees, cutting firewood, and performing most other jobs around the farm and home. The addition to this series of professional-grade saws includes the CS46 and CS52 - each with a 16-inch and 18-inch bar option. The CS46 and CS52 saws' 45.01-cc and 51.7-cc engines have 3 and 3.4 hp, respectively. While a two-ring piston and closed port cylinder provides higher compression and more power, the saws' compensating carburetors can last triple the average time between cleanings. And with powerhead weights of 10.8 lb. and 11 lb., the CS46 and CS52 saws are considered among the best in class in regards to power-to-weight ratios. Both saws come standard with compression valves for easy starting. John Deere has made maintenance more efficient with the CS46 and CS52 as well. The air filter and spark plug can both be accessed without tools, and the side cover on both models offers easy access for chain tensioning. These features may keep the saws running longer, but John Deere recommends that owners follow a regular maintenance schedule as indicated in the owner's manual. Also, in the event that replacement parts are needed, John Deere guarantees delivery of those parts within 24 hours, seven days a week. All John Deere Pro-Series chain saws have "no-oil-at-idle" that reduces oil consumption and keeps the environment cleaner. Forged and wafered connecting rods on each model promote heat dissipation and thorough lubrication for added durability and extended engine life. A 3-piece crankshaft reduces vibration for more comfortable operation. The 3-piece clutch makes for smoother clutch engagement and has more clutch surface to reduce slippage. For operator safety, each chain saw is equipped with an inertia chain brake, guidebar safety tip and low kickback chain. The chain saws can be equipped or used in conjunction with a variety of accessories including a 16-in. bar scabbard; carrying case; chaps; ear muffs; file handle; flat file; file and guide; grease gun; guidebars; helmet; safety glasses; sharpening kit shield; and 5-, 8-, and 10-inch wedges. All John Deere chain saws have a two-year consumer warranty and a 120-day commercial warranty. Please forward sales inquiries to John Deere Inquiry Department, PO Box 13603, Research Triangle Park, NC 27709. Readers may also call 1-800-537-8233 or visit us at www.JohnDeere.com
More from Electronic Components & Devices