Trash Cans and Waste Receptacles
CFL Bulb Recycling Container protects against mercury vapor.
Press Release Summary: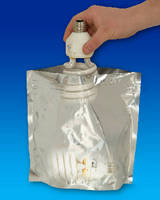 Designed to safely hold up to four 13 W CFLs or three 23 W CFLs, VaporLokCAPTURE™ Recycling Bags effectively reduce mercury vapor concentrations to levels below OSHA Permissible Exposure Limit to protect consumers from hazardous vapors if bulbs are broken from mishandling. Foil bag material prevents mercury vapors from seeping through, while VaporLokCAPTURE™ adsorbent pad technology captures more than 95% of released vapors inside bag.
---
Original Press Release:

New CFL Bulb Recycling Container from VaporLok Products LLC Protects Consumers Against Toxic Mercury Vapor



VaporLok Products LLC CFL Bulb Recycling Container



Mankato, MN—A new Compact Fluorescent Lamp (CFL) recycling container from VaporLok Products LLC, Mankato, MN, can safely hold up to four 13-watt, or up to three 23-watt used CFLs, protecting consumers from hazardous mercury vapors if the fragile bulbs inside are broken from mishandling. With the average CFL containing approximately 4 milligrams of mercury, a single broken bulb can release vapor levels dangerous to consumers' health. Exposure to mercury can cause neurological, kidney and brain damage in adults, children and fetuses.



Especially significant, this CFL recycling solution is the only one that adsorbs mercury vapor inside the container to protect the consumer from vapors if the bag is opened with broken bulbs inside. It can also be used to collect bulb debris and cleanup materials from bulbs broken in the home by following the EPA's clean-up procedures (http://www.epa.gov/cfl/cflcleanup.html). The new recycling container effectively reduces mercury vapor concentrations to levels below the OSHA Permissible Exposure Limit (PEL) to help alleviate consumer concerns about mercury vapor exposure from broken CFLs.



The container features a special foil bag material that prevents mercury vapors from seeping through the bag, and further includes the patent-pending VaporLokCAPTURE™ adsorbent pad technology that captures more than 95 percent of released mercury vapors inside the bag, protecting consumers from mercury exposure. Consumers and businesses can purchase 3-Paks of  VaporLokCAPTURE™ recycling bags online at vaporlokproducts.com for only $6.99 US, including free shipping within the USA. When full, consumers can visit Earth911.com™ or call 1-800-CLEANUP® to easily find retailers or municipalities who accept CFLs for recycling, at no additional cost for most locations.



This new CFL recycling solution helps solve a huge recycling concern, as there are currently no collection programs or logistics in place to efficiently recycle millions of used CFLs, and most end up in landfills where their mercury content can leach into lakes, rivers and groundwater. The VaporLokCAPTURE™ recycling solution is a safe, easy and cost-effective way to recycle CFLs.



VaporLok Products, LLC is the inventor and marketer of the patented Mercury VaporLok® packaging system, nearly 100 percent effective in containing mercury vapor, and the inventor of patent-pending VaporLokCAPTURE™, the only packaging technology that can adsorb more than 95 percent of mercury vapor within packages. VaporLok™ containers are used to store, ship and recycle mercury-containing products including fluorescent lamps, CFLs, batteries, electronic devices and dental wastes. VaporLok Products LLC is headquartered in Mankato, Minnesota. For more information, contact VaporLok Products LLC, 302 North Riverfront Drive, Mankato, MN 56001. Phone: 1-877-334-1116; email: info@vaporlokproducts.com.