CFD Software supports hybrid mesh generation.
Press Release Summary: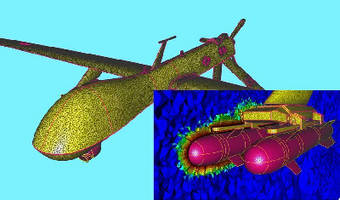 Automating generation of hybrid meshes for viscous flows, Gridgen v15.18 increases recovery of prism cells from layers of extruded tetrahedra in boundary layer, and offers option to use Green-Gauss formulation for computing prism volume that is more forgiving than default formulation. Version 15.18 also optimizes algorithm's ability to smoothly extrude more tetrahedral layers from concave regions.
---
Original Press Release:

New Gridgen Release Improves Boundary Layer Hybrid Mesh Generation



FORT WORTH, TX - Pointwise announces the latest release of its cornerstone Gridgen software for computational fluid dynamics mesh generation, which includes several improvements to automated generation of hybrid meshes for viscous flows.

"Hybrid mesh generation using anisotropic tetrahedral extrusion (T-Rex) has proven to be an extremely valuable tool for meshing complex geometry with viscous boundary layer and wake resolution," said Dr. John Steinbrenner, Pointwise's vice president for research and development. "Through close collaboration with leading customers over the past year, we have improved on the two main characteristics of the technique: complex geometry and prisms in the boundary layer."

Gridgen Version 15.18 increases the recovery of prism cells from the layers of extruded tetrahedra in the boundary layer, offers the option to use a Green-Gauss formulation for computing prism volume that is more forgiving than the default formulation, and includes two improvements to the algorithm's ability to smoothly extrude more tetrahedral layers from concave regions.

Gridgen V15.18 also includes several bug fixes and other minor features. The T-Rex improvements also are included in the flagship Pointwise meshing software.

Pointwise, Inc. is solving the top problem facing engineering analysts today -- mesh generation for computational fluid dynamics (CFD). The company's Pointwise software generates structured, unstructured, and hybrid meshes; interfaces with CFD solvers, such as ANSYS FLUENT, STAR-CCM+, ANSYS CFX and OpenFOAM, as well as many neutral formats, such as CGNS; runs on Windows (Intel and AMD), Linux (Intel and AMD), and Mac, and has scripting languages that can automate CFD meshing. Large manufacturing firms and research organizations worldwide rely on Pointwise as their complete CFD preprocessing solution. More information about Pointwise is available at www.pointwise.com.

Pointwise and Gridgen are registered trademark and Pointwise Glyph and T-Rex are trademarks of Pointwise, Inc. All other trademarks are property of their respective owner.

For more information:

Jan Batts

817-377-2807

news@pointwise.com

Related