CFD Meshing Software features advancing front algorithm.
Press Release Summary: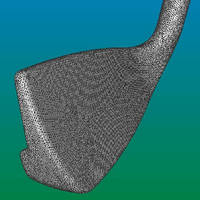 In addition to accelerated file reading and writing, Pointwise v17.1 includes advancing front algorithm for unstructured surface mesh generation. This method offers alternative to Delaunay algorithm and can be applied on domain-by-domain basis or as default method for all new domains. Program also includes expanded options for editing mesh topology, tools for distributing mesh points along curves, and additional interfaces to CFD solvers.
---
Original Press Release:

New Meshing Algorithm, Faster I/O in Latest Release of Pointwise Meshing Software



FORT WORTH, TX --Pointwise announces the latest release of its Pointwise computational fluid dynamics (CFD) meshing software, which includes a new advancing front algorithm for unstructured surface mesh generation and improvement in file reading and writing that yield up to a hundred-fold speedup.



The advancing front algorithm complements Pointwise's existing Delaunay-based method and offers users a choice for their surface meshing, the advancing front algorithm generating a much more ordered arrangement of triangles than does the Delaunay.

"These improvements aren't just aesthetic," said Dr. John Steinbrenner, Pointwise's vice president of research and development. "Calculations we've done indicate that the advancing front algorithm generates cells of overall higher quality."



A second major improvement to Pointwise is an up-to 100 times speedup in read and write times for the Pointwise native project (PW) file. This speedup was achieved by dropping HDF5 in favor of a proprietary scheme.



Dr. Steinbrenner explained, "Our first step toward the goal of providing open access to the PW file was to base it on the HDF5 standard. However, it became clear that the way we store mesh topology wasn't compatible with HDF5's performance, especially as the topology became more complex."



Also included in Pointwise Version 17.1 are expanded options for editing mesh topology, more tools for distributing mesh points along curves, additional interfaces to CFD solvers, and a variety of user experience improvements. For more details, see ptwi.se/U9b6jA.



Pointwise, Inc. is solving the top problem facing engineering analysts today – mesh generation for computational fluid dynamics (CFD). The company's Pointwise software generates structured, unstructured and hybrid meshes; interfaces with CFD solvers, such as ANSYS FLUENT, STAR-CCM+,  ANSYS CFX and OpenFOAM as well as many neutral formats, such as CGNS; runs on Windows (Intel and AMD), Linux (Intel and AMD), and Mac, and has scripting languages that can automate CFD meshing. Large manufacturing firms and research organizations worldwide rely on Pointwise as their complete CFD preprocessing solution.



More information about Pointwise is available at www.pointwise.com.



Pointwise is a registered trademark and Pointwise Glyph and T-Rex are trademarks of Pointwise, Inc. All other trademarks are property of their respective owner.



For more information:

Jan Batts

817-377-2807

news@pointwise.com

Related