Ceramic TVS Devices provide bi-directional ESD protection.
Press Release Summary: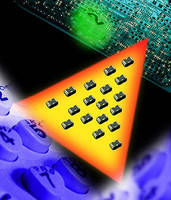 Combining electrical characteristics of TransGuard® Transient Voltage Suppressors and Feedthru Capacitors in single chip, TransFeed Automotive Series provides overvoltage circuit protection and EMI reduction over broad range of frequencies. Units offer working voltage of 5.6–18 Vdc, clamping voltage of 18-50 V, energy rating of 0.05–0.3 J, and peak current of 15–120 A. Featuring multilayer ceramic construction, devices operate from -55 to +125°C with response times from 200-250 psec.
---
Original Press Release:

AVX Transfeed Automotive Series Varistors Exhibit Fastest Response Time to ESD Strikes



Innovative multilayer ceramic TVS devices provide state-of-the-art overvoltage protection & EMI attenuation over a broad range of frequencies in automotive applications



GREENVILLE, S.C. -- AVX Corporation, a leading manufacturer of passive components and interconnect solutions, has introduced the new TransFeed Automotive Series, which combines the best electrical characteristics of its TransGuard® Transient Voltage Suppressors (TVS) and its Feedthru Capacitors in a single chip to provide state-of-the-art overvoltage circuit protection and EMI reduction over a much broader range of frequencies than comparable devices.  Featuring a unique multilayer ceramic construction in a feedthru configuration, the new TransFeed Automotive Series responds to transient events faster than any TVS device currently on the market and provides significant EMI attenuation when in the off state.  Qualified to AEC-Q200, the series is ideal for automotive applications, including: drive by wire, dimming mirror circuits, filtering/protection on microcontroller I/O lines, filtering/protection on interface I/O lines, power line conditioning, power regulation, and LCD dashboard drivers, among others. 



"The new Automotive TransFeed Series varistors provide outstanding bi-directional ESD protection coupled with low parallel induction, excellent decoupling capabilities for high di/dt environments, and significant noise reduction in digital circuits," said Jiri Machanicek, product manager at AVX.  "These devices are ideal for automotive applications in which designers are concerned with both transient voltage protection and EMI attenuation, either due to the electrical performance of their circuits or required compliance with EMC regulations."



The reduction in parallel inductance typical of the feedthru chip construction (vs. the construction of standard TVS or ceramic capacitor chips) provides the TransFeed Automotive Series with two significant advantages, the first of which is faster turn-on time.  Measured response times for TransFeed devices range from 200-250pSec, which is less than half that of the fastest bipolar TVS solutions available.  The second electrical advantage of lower parallel inductance coupled with optimal series inductance is enhanced attenuation characteristics.  TransFeed Automotive Series varistors exhibit excellent attenuation at high self-resonant frequency with a much flatter roll-off characteristic than comparable devices, resulting in EMI filtering over a much broader frequency spectrum. 



TransFeed Automotive Series varistors feature a working voltage range of 5.6-18VDC, a clamping voltage range of 18-50V, an energy rating of 0.05-0.3J, a peak current of 15-120A, and a maximum feedthru current of 0.2-1A.  Rated for use in temperatures ranging from -55ºC to +125ºC, the series is available in 0805 and 0612 cases with Ni Barrier/100% Sn terminations.



Lead time for the series is 14 weeks.  Pricing is available upon request. 



The datasheet for TransFeed Automotive Series components is available at: http://www.avx.com/docs/Catalogs/Autotransfeed.pdf.  For additional information and inquiries, please visit www.avx.com, call 864-967-2150, or write to One AVX Boulevard, Fountain Inn, S.C. 29644.



About AVX

AVX Corporation is a leading international supplier of electronic passive components and interconnect solutions with 26 manufacturing and customer support facilities in 15 countries around the world. AVX offers a broad range of devices including capacitors, resistors, filters, timing and circuit protection devices and connectors. The company is publicly traded on the New York Stock Exchange (NYSE:AVX).

More from Construction Equipment and Supplies