Ceramic Radial Leaded Capacitor is CECC/AEC-Q200 compliant.
Press Release Summary: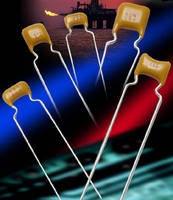 Encompassing NP0, X7R, and X8R dielectrics for harsh environment applications, SkyCap® AR Series meets CECC and ceramic AEC-Q200 qualifications. AR Series X8R dielectric allows for extended temperature range up to 150°C. Also available, SL Series with Sn/Pb lead configurations suit military/space designs, while RoHS-compliant SR Series suit general commercial applications. All operate in standard temperatures to 125°C and are available up to 200 Vdc with 1 pF to 4.7 µF capacitance.
---
Original Press Release:

AVX'S AR Series Meets CECC and AEC-Q200 Qualifications



SkyCap® is the first ceramic radial leaded capacitor family available in extended temperature range...

MUNICH, Germany, Electronica Hall B6, Booth 624, (November 11, 2008) - AVX Corporation, a leading manufacturer of advanced passive components and connectors, has developed a ceramic radial leaded capacitor that meets CECC and ceramic AEC-Q200 qualifications. Part of the SkyCap® family, the AR Series encompasses NP0, X7R, and X8R dielectrics for harsh environment applications. The AR Series, with its CECC and AEC-Q200 qualifications, is ideal for designers requiring a PPAP (Production Part Approval Process) for new qualifications. All the necessary PPAP data is complete and is available upon request.

"Our AR Series was the first automotive-grade conformally coated ceramic radial leaded capacitor on the market. The advantages of the technology have been a natural fit for a wide range of industries and provide our customers the opportunity to specify the solution that best meets their design requirements, whether it is a military, commercial or automotive application," said Stacy Meece, AVX product specialist. "The SkyCap family now encompasses components that meet several different application requirements including tin/lead, RoHS compliance as well as CECC and AEC-Q200 qualifications."

The AR Series X8R dielectric allows for an extended temperature range up to 150°C, making the parts ideal for a variety of automotive and industrial applications, including underhood, in-cabin, and downhole.

In addition to the AR Series, the SkyCap family includes the SL Series (Sn/Pb lead configuration version) and the SR Series (an environmentally-friendly RoHS-compliant version). The SL Series with its Sn/Pb lead configurations are ideal for military and space designs, while the SR Series is an ideal fit for those with general commercial applications.

Operational in standard temperatures up to 125ºC and extended temperatures up to 150°C, all SkyCap series of capacitors are available up to 200 VDC and with capacitance ranging from 1pF to 4.7µF. The capacitors come in 16 different case sizes.

The SkyCap family is available in straight or formed lead configurations, with lead spacing options ranging from .100" to .400". Packaging options include bulk, tape & reel, and ammo package.

Book pricing for the SkyCap Series starts at $0.065 for quantities of 10,000 pieces and parts are available from stock to 12 weeks.

For more information, contact AVX at 801 17th Avenue South, Myrtle Beach, S.C. 29578; by calling 843-448-9411, by fax at 843-444-2864 or on the Web at www.avx.com.

AVX Corporation is a leading international supplier of electronic passive components and connectors with 24 manufacturing and customer support facilities in 15 countries around the world. AVX offers a broad range of devices including capacitors, resistors, filters, timing and circuit protection devices and connectors. The company is publicly traded on the New York Stock Exchange (NYSE:AVX).

More from Mechanical Power Transmission