Ceramic Insert Grade works with cast iron.
Press Release Summary: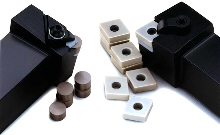 Fine-grain, silicon-nitride Quantum Q60 is formulated for high-speed rough turning and both rough and finish milling of cast irons. Speeds range from 1000 to 3800 sfm depending on depth of cut. Q60 is available in all types of turning and milling geometries. For finish turning, wiper radius insert geometry is available.
---
Original Press Release:
New Valenite Q60 Silicon Nitride Ceramic Insert Grade Provides The Toughest Needed For High-Speed Milling And Rough Turning Of Cast Irons

Valenite's next generation fine grain silicon nitride ceramic insert grade is the fourth in the Quantum series and third in the series of microwave sintered ceramic insert products

Valenite is introducing Q60, a new generation of the "Quantum" silicon nitride ceramic insert product series that is an extremely tough material specifically formulated for high-speed rough turning and both rough and finish milling of cast irons.

For over twenty years, Valenite has provided the metalcutting industry with Quantum Q6, a general purpose silicon nitride ceramic grade that is excellent for turning and milling of cast
irons in moderate speed ranges from 800 to 3000 sfm, In the late 1990s, Valenite added the Q65 and the Q8 silicon nitride grades that expanded Valenite's ceramic turning and milling capabilities. The Q65 is also a cast iron grade that provides enhanced hardness for increased wear resistance and longer tool life. It has the toughness properties to resist chipping and the
high temperature strength for running at higher speeds in the 1500 to 4200 sfm range. The Q8 grade is formulated for high-speed machining of nickel-based alloys typical of those used in the aerospace industry. Q8 is capable of machining materials like Inconel 718 at speeds up to ten times faster than carbide.

The Q60 grade is answering the need for a very tough ceramic grade. The toughness of a grade is determined by the grain size and the consistency of that size. By utilizing the microwave sintering process, the desired toughness and thermal shock properties of the Q60 silicon nitride can be produced, resulting in an insert that can run faster in heavier depth-of-cut
conditions. Speeds range from 1000 to 3800 sfm depending on the depth-of-cut.

Like all of the Valenite ceramic grades, Q60 is available in all of the different types of turning and milling insert geometries. In addition, for finish turning, wiper radius insert geometry is available. With this design, the blended radii of the wiper insert create a crowned wiper effect. The trailing edge wipes or smears the wave pattern that is typically left behind. The blended radii knocks off the high points creating a smoother finish to be produced at higher feed rates.

Valenite is one of the largest manufacturers of industrial cutting tools in the world. Headquartered in Madison Heights, Michigan, Valenite has manufacturing, sales and service operations on five continents. Valenite offers a complete line of standard and special indexable-insert turning, threading, grooving, boring, milling and drilling products to a variety
of industries. Valenite also manufacturers carbide die and wear parts, extruded carbide products, high-speed steel cutting tools, and electronic gaging systems. In addition, special high-
production tooling for custom machining systems is produced under the MODCO® name. Valenite also markets the VALCOOL® line of cutting fluids.

For Further Editorial Information Contact:
Allan G. Hall
Kracoe Szykula & Townsend Inc.
2950 West Square Lake Rd., Suite 207
Troy, Michigan 48098
Telephone: 248-641-7500
Fax: 248-641-4779
E-Mail:hip100@aol.com

Send All Inquiries To:
Barb Craig
Valenite
1711 Thunderbird
Troy, Michigan 48084
Telephone: 248-589-7556
Fax: 248-597-4902
E-Mail: barbara_a_craig@valenite.com

More from Electronic Components & Devices