Ceramic Crystals have frequency stabilities of ±50-100 ppm.
Press Release Summary: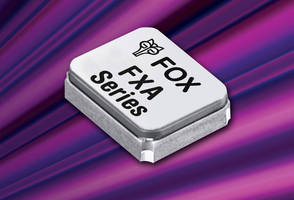 Available with operating temperatures range between -40°C to +85°C and -40°C to +125°C, respectively, and 3 ppm aging/yr, FXA5032B and FXA7050B suit automotive timing applications, including GPS navigation and collision warning systems. Model FXA5032B series features 5 x 3 mm package with frequency range of 8-150 MHz, while 7 x 5 mm FXA7050B series offers 6-133 MHz frequency range. Units feature load capacitance of 10 pF, drive level of 100 µW and max soldering temperature of 260°C per 10 sec.
---
Original Press Release:

Automotive-Grade Ceramic SMD Crystals from Fox Electronics Withstand Higher Levels of Shock and Vibration at Extended Temperature Ranges



Fort Myers, Fla. June 22, 2009 - Fox Electronics, a leading global supplier of frequency control solutions, today announced two new series of ceramic SMD (surface mount device) automotive-grade crystals built to operate at extended temperature ranges and engineered to withstand higher levels of shock and vibration. The new FXA5032B and FXA7050B crystals are used in a variety of automotive timing applications, including GPS navigation, high-end audio and video systems, wireless phones, collision warning systems, Antilock Brake System controller, RADAR and onboard computer systems.

Fox's FXA5032B series features a 5 mm x 3 mm package with a frequency range of 8 MHz to 150 MHz, while the larger 7 mm x 5 mm FXA7050B series offers a 6 MHz to 133 MHz frequency range.

Standard frequency stabilities for both series are ±50 ppm to ±100 ppm, with operating temperatures ranging from -40°C to +85°C and -40°C to +125°C, respectively and a 3 ppm aging per year. Additional tolerances and stabilities are available upon request. In addition, both products meet AEC-Q200, the Automotive Electronics Council Stress Test Qualification for Passive Components, and feature a load capacitance of 10 pF, a drive level of 100 Micro Watts and a maximum soldering temperature of 260°C per 10 seconds.

These RoHS-compliant auto-grade crystals have a gold termination finish and are seam sealed. This hermetically sealed lid helps reduce foreign matter and moisture from inside the package.

Pricing for a FXA5032B with an operating temperature range of -40°C to +125°C is $0.39 each in quantities of 10,000. Delivery is 6-8 weeks ARO.

For more information, please visit www.foxonline.com/pdfs/FXA5032B.pdf and www.foxonline.com/pdfs/FXA7050B.pdf or contact Customer Service, Fox Electronics, 5570 Enterprise Parkway, Fort Myers, Fla. 33905. Tel: 888-GET-2-FOX; Fax: 239-693-1554; E-mail: foxonline.com/email.htm; Web: www.foxonline.com.

Fox Electronics is a leading global supplier of standard and custom frequency control products, including the industry's broadest line of crystals, oscillators, VCXOs, TCXOs, OCXOs and crystal filters. The company, headquartered in Fort Myers, Fla., has facilities, representatives and distributors throughout the world.

Company Name: Fox Electronics

Phone: 215-453-8700

More from HVAC