Ceramic Capacitors feature internal arc protection.
Press Release Summary: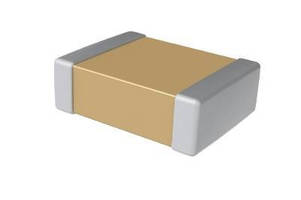 Available in EIA 0603 case size, High Voltage Surface Mount MLCCs feature voltage ratings up to 1,000 V. ArcShield technology provides permanent internal protection that prevents arcing in both coated and uncoated printed circuit board assemblies. Available with flexible termination technology, capacitors are suited for high voltage coupling, DC blocking, snubber circuits in power supplies, and high voltage noise reduction circuits.
---
Original Press Release:

KEMET Introduces the Word's Smallest High Voltage Ceramic Capacitors with Internal Arc Protection



GREENVILLE, S.C., -- KEMET Corporation (NYSE: KEM), a leading global supplier of electronic components, today announced the world's smallest high voltage surface mount multilayer ceramic capacitors (MLCCs) with internal arc protection. The EIA 0603 case size has been added to KEMET's High Voltage ArcShield product portfolio with voltage ratings up to 1,000 volts.



High voltage capacitors are typically limited by size due to arcing concerns. KEMET's patented ArcShield technology is designed to suppress arc-over events, while allowing for the smallest available footprint and highest capacitance values in the industry.



"ArcShield is unique in that it provides permanent internal protection that prevents arcing in both coated and uncoated printed circuit board assemblies," said Dr. John Bultitude, KEMET Vice President and Technical Fellow. "Most competitive technologies cannot prevent arcing within the capacitors' voltage rating and require an external coating, which can be damaged during handling. KEMET's patented ArcShield technology prevents arcing without the need of a surface coating. It also allows for the realization of smaller case size devices with exceptional lightning strike performance."



KEMET High Voltage MLCCs are utilized in a variety of applications including high voltage coupling, DC blocking, snubber circuits in power supplies and high voltage noise reduction circuits. Available with flexible termination technology, ArcShield is offered in both commercial and automotive grades.



For more information, please visit www.kemet.com/arcshield.



About KEMET

KEMET Corporation is a leading global supplier of electronic components. We offer our customers the broadest selection of capacitor technologies in the industry, along with an expanding range of electromechanical devices, electromagnetic compatibility solutions and supercapacitors. Our vision is to be the preferred supplier of electronic component solutions demanding the highest standards of quality, delivery and service. KEMET's common stock is listed on the NYSE under the symbol "KEM." Additional information about KEMET can be found at http://www.kemet.com.



Contact:

Dr. John C. Boan

Vice President, Marketing

johnnyboan@kemet.com

954.766.2813

More from Software