Ceramic Capacitors eliminate risk of short-circuit failure.
Press Release Summary: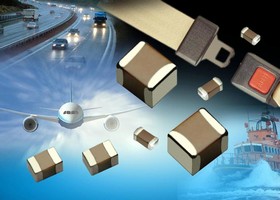 Designed with FLEXITERM(TM) technology, FLEXISAFE(TM) capacitors absorb shock and prevent internal cracking due to board flexure and temperature cycling damage. Components are structured with cascade electrode design to protect product from low insulation resistance failure resulting from thermal stress. Capacitors are suited for new designs in military/aerospace COTS+ applications, automotive, and other safety-critical designs.
---
Original Press Release:

AVX's Flexisafe(TM) Capacitor Minimizes Short-Circuit Failure in Ultra Safe Design



FLEXITERM(TM) technology combines with cascade electrode design...

MYRTLE BEACH, S.C. (November 14, 2006) - AVX Corporation, a leading manufacturer of advanced passive components and connectors, has designed a ceramic capacitor that virtually eliminates the risk of short-circuit failure. Terminated with the award-winning FLEXITERM(TM) technology introduced last year, FLEXISAFE(TM) capacitors absorb shock and prevent internal cracking due to board flexure and temperature cycling damage. FLEXISAFE components are also structured with a cascade electrode design (effectively 2 capacitors in series within one MLCC) that protects the ceramic capacitor from low insulation resistance failure that may result from thermal stress, repetitive strike ESD and placement damage.

"FLEXISAFE capacitors are probably the safest MLCC in the world," said Tim Hollander, AVX product manager. "By combining our innovative FLEXITERM technology with the cascade design traditionally used in our high-voltage ceramic capacitors, the internal design of these capacitors minimizes all major causes of short circuit failure."

FLEXISAFE capacitors are ideal for new designs in military/aerospace COTS+ applications, automotive terminal 30 applications to replace two capacitors in series requirement, automotive terminal 15 applications to replace two capacitors requirement, and other safety-critical designs.

FLEXITERM technology is a soft termination system that allows almost three times the amount of board flexure when compared to standard termination systems. Further enhancing the capabilities of a standard MLCC, FLEXITERM was developed as an additional flexible termination layer added to the component to ensure electrical integrity is maintained when external forces are applied. This new high conductivity termination material was added to the AVX standard X7R dielectric ceramic capacitor to prevent failures in the system due to cracking.

The flexible termination comprises a conductive polymer used in conjunction with Base Metal Electrode (BME) technology. The conductive polymer coats a copper termination that is then plated with nickel and tin. Resistance to mechanical failure can be attributed to FLEXITERM's ability to reduce the transfer of mechanical stress exerted on the component body.

AVX offers a minimum flexure of up to 5mm, without internal cracks, versus the industry standard of 2mm. In addition, FLEXITERM can achieve 3000 temperature cycles as compared to the industry standard of just 1000 cycles.

FLEXITERM is designed so that the capacitors will not crack under most extreme environmental conditions. In the rare scenario where a board may flex beyond 5mm, FLEXITERM is designed so if there were to be a failure, it would be in the termination area and in open mode. This is especially important on power lines where failure could involve fire damage due to short circuit. With FLEXITERM, the open circuit occurs in a small area of the termination meaning little or no degradation to the capacitor's performance.

Parts are available in 0603 50V to 22nF, 0805 50V to 100nF, 1206 50V to 150nF, and 1210 50V to 470nF. Devices are lead-free and comply with commercial, AEC-Q200 and COTS+ requirements.

Pricing for FLEXISAFE capacitors range from $0.015 to $0.06 in quantities of 10,000 pcs, depending on capacitance values. Samples are available and production delivery is stock to six weeks.

For more information, contact
AVX
801 17th Avenue South,
Myrtle Beach, S.C. 29578;
by calling 843-448-9411,
by fax at 843-444-2864
or on the Web at www.avx.com.

AVX Corporation is a leading international supplier of electronic passive components and connectors with worldwide manufacturing facilities. AVX offers integrated passive devices including capacitors, resistors, filters, SMT, timing devices and circuit protection devices. The company is publicly traded on the New York Stock Exchange (NYSE:AVX).

Contact Information:
Mark Obuszewski
AVX Product Manager
843-946-0690
markobo@avxus.com

More from Packaging Products & Equipment