Ceramic and Carbofib Tweezers accommodate sensitive jobs.
Press Release Summary: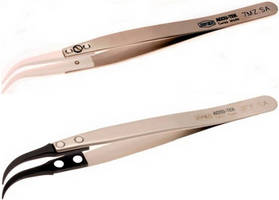 For delicate assembly tasks, specialty tweezers feature tips designed for precision, safety, and durability. Models with zirconia ceramic tips and stainless steel body avoid contamination, static discharge, and electromagnetic induction. These 5.25 in. tweezers with 1.7 in. tips resist heat to 1,500°C. Also available, tweezers with carbofib tips feature soft, composite material that prevents scratching, ESD, and other damage. Curved, fine tips are 0.02 in. wide, and overall length is 5 in.
---
Original Press Release:

Ceramic and Carbofib Tweezers from Aven Are Tailored for Sensitive Performance



Two specialty tweezers for delicate assembly tasks are introduced by Aven, Inc., to expand its selection of professional hand tools. Each new model is Swiss-made and features tips designed for precision, safety and durability.

A design with zirconia ceramic tips and a stainless steel body is ideal for avoiding contamination, static discharge and electromagnetic induction. Thermal insulators and the smooth ceramic surface make the tweezers suitable for soldering, while the nonmagnetic stainless steel handles won't rust or risk ferrous contamination.

The extra fine, bent tips have a very low friction coefficient and resist solder adhesion. The ceramic material's tensile strength maintains tip integrity and shape longer than metal tips. These 5.25-inch (133 millimeter) tweezers with 1.7-inch (45.5-millimeter) tips resist heat to 1,500 degrees Centigrade and can be sterilized with microwaves.

Resistance to all strong acids except hydrofluoric makes the ceramic tip tweezers practical for laboratory settings and certain manufacturing environments.

Aven's other new industrial tweezers have carbofib tips for handling delicate parts. The soft composite material prevents scratching, electrostatic discharge or other damage. The curved, fine tips have a width of 0.02 inches (0.6 millimeters). Overall length is five inches (130 millimeters).

Both models are manufactured by Accu-Tek, a respected Swiss supplier of high-performance instruments for electronics, scientific, educational and industrial applications.

For more information, call Aven at (734) 973-0099. A digital catalog is at www.aveninc.com.

Visit Aven at Booth 724 of Quality Expo at Chicago's McCormick Place North in Chicago from Sept. 20-22.

More from Adhesives & Sealants