Centrifuge removes fine grinding solids from coolants/oils.
Press Release Summary: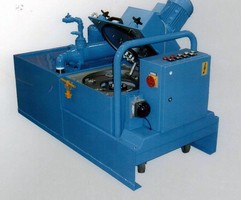 Turbo-Separator T14RCS features processing rate of up to 40 gpm with solids removal capacity of up to 22 lb before changing liner. Low profile dirty and clean tank receives fluids via gravity directly from machine tool. Offering overflow protection, clean tank includes heat exchanger and supply pump for return of cleaned fluid directly to nozzles in grinder. Discharged dry solids can provide resource recovery for valuable materials, such as carbide.
---
Original Press Release:

Centrifuge Removes Fine Grinding Solids from Coolants or Oils



The Turbo-Separator T14RCS is a complete filtration system for fine grinding that filters and purifies oils and coolants by removing the fine micron particulate entrained in the fluid. The centrifuge has a processing rate of up to 40 GPM with a solids removal capacity of up to 22 pounds of sludge before changing the liner. The low profile dirty and clean tank is designed to receive fluids via gravity directly from the machine tool. The clean tank includes a heat exchanger, overflow protection and a supply pump for the return of cleaned fluid directly to the nozzles in the grinder. The system is on casters for easy maneuverability when maintenance is necessary on the machine tool. The large capacity plastic bowl liner allows for easy and quick sludge removal. Due to a unique bowl design, the discharged solids are dry and can provide resource recovery for valuable materials such as carbide.
Turbo-Separators are in use worldwide, recycling oils, coolants and parts washer fluids. In fine grinding applications they outperform most other filtration technologies.

Sanborn Technologies offers the Turbo-Separator for industrial fluid purification. The company specializes in providing recycling and waste minimization systems for metalworking manufacturers.

For more information contact:
Sanborn Technologies, 23 Walpole Park South, Walpole, MA 02081-2558, Phone: (508) 660-
9150 ext. 3112, www.sanborntechnologies.com, sales@sanborntechnologies.com.

Contact:
Steven R. Friedman, General Manager

Related