Centrifugal Screener features sanitary design.
Press Release Summary: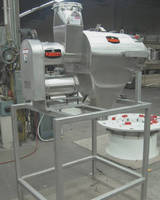 Intended for food, dairy, pharmaceutical, and chemical applications, Centri-Sifter® features 3-bearing shaft that cantilevers for removal of internal components. External roller bearings located at motor end of shaft and on hinged cover at discharge end provide maximum support and vibration-free operation under heavy loads. Equipped with Clean-In-Place Spray Balls for rapid sanitizing using steam or cleaning solution, stainless steel unit is finished to industrial, 3-A, FDA, and BISSC standards.
---
Original Press Release:

Sanitary, Quick-Clean Centrifugal Screener



MILLBURN, NJ-A new Centri-Sifter® centrifugal screener from Kason Corporation features a three-bearing shaft that cantilevers for quick removal of internal components, according to Henry Alamzad, President.

External roller bearings located at the motor end of the shaft and on a hinged cover at the discharge end provide maximum support and vibration-free operation under heavy loads. When the hinged end cover is open, the shaft cantilevers on a third externally-mounted roller bearing located between the motor-end bearing and material feed point, allowing internal components to slide freely from the opposite shaft end.

Equipped with Clean-In-Place (CIP) Spray Balls for rapid sanitizing using steam or cleaning solution, the unit is constructed of stainless steel finished to industrial, 3-A, FDA, BISSC, and other sanitary standards, and is equipped with a stainless steel motor.

It is intended for food, dairy and pharmaceutical applications requiring thorough wash-down, as well as general chemical applications involving frequent screen changes/inspections or runs of multiple materials with no cross contamination.
Dry or moist bulk solid material is gravity-fed into the horizontally-oriented cylindrical screening chamber fitted with heavy-duty wedgewire screen. A rotating helical paddle assembly accelerates the radial movement of particles against the screen causing on-size particles to pass through apertures in the screens and fall through a cone-shaped discharge chute. Oversize particles are propelled through the open end of the screen cylinder and ejected through a discharge spout.
In addition to sifting and scalping of dry bulk materials, the screener can break up soft agglomerates and/or dewater moist solids or slurries.

The company also manufactures centrifugal screeners with two-bearing cantilevered shafts, as well as circular vibratory screeners and fluid bed dryers, coolers and moisturizers.

For information contact Kason Corporation, 1-973-467-8140, info@kason.com, www.kason.com

More from Architectural & Civil Engineering Products