Centrifugal Screener features dual screening chambers.
Press Release Summary: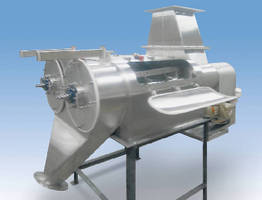 Constructed of stainless steel and finished to 3-A, FDA, and BISSC standards, Centri-Sifter® Twin Centrifugal Screener can sift and scalp dry bulk materials, as well as break up soft agglomerates and dewater moist solids or slurries. Each screening chamber features sliding end cover and 3-bearing shaft that cantilevers for removal of internal components for sanitizing. Screener is suited for food, dairy, and pharmaceutical applications, as well as contamination-sensitive chemicals.
---
Original Press Release:

Twin Centrifugal Screener Offers Ultra-High Capacity, Quick Cleaning



MILLBURN, NJ-A new Centri-Sifter® Twin Ultra-High Capacity Centrifugal Screener introduced by Kason Corp. matches the capacity of two individual High Capacity screeners within a smaller footprint, while cantilevered three-bearing shafts allow rapid sanitizing, according to Henry Alamzad, president.

Dry or moist bulk solid material is gravity-fed through a feed splitter to evenly divide the flow of incoming feed material into the two horizontally-oriented cylindrical screening chambers which operate in parallel. A shaft in each screening chamber rotates a helical paddle assembly that accelerates the radial movement of particles against the screen. On-size particles pass through apertures in the screens and fall through a cone-shaped discharge chute, while oversize particles are propelled through the open end of the screen cylinders and ejected through a discharge spout.

Each of the screening chambers features a sliding end cover and three-bearing shaft that cantilevers for quick removal of internal components.

External roller bearings are located at the motor end of the shaft and on a sliding cover at the discharge end for maximum support and vibration-free operation. When the end cover is hinged open, the shaft becomes a cantilever supported by a third externally-mounted roller bearing located between the motor-end bearing and material feed point, allowing internal components to slide freely from the opposite shaft end for thorough wash-down.

In addition to sifting and scalping of dry bulk materials, the screener can break up soft agglomerates and/or dewater moist solids or slurries.

The screener is constructed of stainless steel finished to 3-A, FDA, BISSC, and other sanitary standards required for food, dairy, and pharmaceutical applications, as well as contamination-sensitive chemicals.

The company also manufactures other types and sizes of centrifugal screeners as well as circular vibratory screeners and fluid bed dryers, coolers and moisturizers.
For information contact Kason Corporation, 1-973-467-8140, info@kason.com, www.kason.com

More from Electronic Components & Devices