CENTRIA Formawall® Panels Protect and Enhance Senior Housing Renovations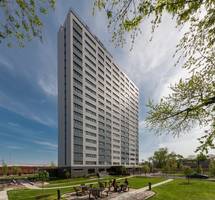 Panel system brings new life to old building, improving aesthetics and insulation capabilities
Moon Township, PA… Situated on a 2.5-acre landscaped site, Chicago's Fannie Emanuel senior housing complex was renovated using 61,153 square feet of CENTRIA Formawall® smooth FWDS and segmented FWGX insulated metal panels.
CENTRIA enabled the design team to create a visually-appealing building façade on the former Park View Apartments, owned by the Chicago Housing Authority (CHA). The Formawall panels specified also enhance the structure's insulative properties as a single-component thermal and moisture barrier.
Formawall is responsible for "essentially creating an insulated rainscreen," says Matt Mosher, CHA deputy chief of capital construction. "If water gets behind the system, it's designed to go between the panel and DensGlass behind it and wick its way out," he says. "We think [the panels] provide an add for the R-value."
"The panel system not only gave us the opportunity to change the look of the building, but to have a continuously insulated façade," says Greg Marinelli, associate principal with Holabird & Root, the firm responsible for the design.
Visually, the panels form a weathertight skin that adds an attractive dimension to the façade, replacing the building's tired, crumbling brick exterior. Arranged in alternating matte blue zinc and embossed chromium grey, the panels appear iridescent, and are arranged with tongue-and-groove joints.
The 124,420 square-foot building renovation project was completed in 22 months, and the final complex holds 180 units which are leased to low-income seniors. Each home was designed to conserve space, capping out at 550 square feet, and the ceiling heights in each apartment reach just over 7 feet. The units are also ADA compliant.
The building was designed with residents' well-being in mind. Amenities include a raised IPE roof deck with 30-foot tall planters, a solarium floor, a fitness room, a game room, and access to three formal gardens, an events lawn, and a looped walking path on the grounds.
The Fannie Emanuel senior housing complex was completed in October 2017. Holabird & Root was the project architect, and CCJM provided additional services. The general contractor was Old Veteran Construction, and the CENTRIA dealer was Crown Corr Inc.
ABOUT CENTRIA
CENTRIA innovations in architectural metal wall and roof systems are helping building teams around the world envision metal as the future of the building envelope. From inspiration through installation, CENTRIA provides the highest level of expertise including service and support from an elite Dealer Network. Based in Pittsburgh (Moon Township, Pa.), our metal architectural systems are the perfect combination of science and aesthetics, offering advanced thermal and moisture protection technology, the broadest spectrum of design options, truly integrated components, and superior sustainability. CENTRIA is an NCI Building Systems (NYSE:NCS) company. Visit us at www.centria.com.
YouTube: https://www.youtube.com/channel/UCexRyuC8RVRlT1kw-TY8upQ
Facebook: https://www.facebook.com/CENTRIAperformance/
Twitter: http://twitter.com/CENTRIA
Instagram: https://www.instagram.com/centriaperformance/
LinkedIn: https://www.linkedin.com/company/centria
Contact: Nick Murosky, LarsonO'Brien Marketing Group
Email: nick.murosky@larsonobrien.com Phone: 412-831-1959 x123
More from Computer Hardware & Peripherals