Central Office Shelf includes multiple redundancy modes.
Press Release Summary: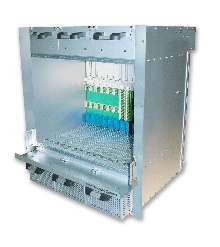 CO-Star(TM) AdvancedTCA(TM) Central Office Shelf is 19 in. 13U system that provides 14 slots that are electrically and mechanically compliant with PICMG 3.0 AdvancedTCA(TM) specification. Unit meets GR-63, GR-1089 UL/EN 60950 EN55024 for NEBS Level III and uses high flow rate and high pressure cooling. Other features include high-performance shelf management and high-performance backplane for 5 Gbps rates. Both 14-slot dual-dual star and full mesh versions are offered.
---
Original Press Release:

New 14-Slot Central Office Shelf Provides PICMG® 3.0 Functionality For AdvancedTCA(TM) Applications


COLUMBUS, OH, January 20, 2004-Tracewell Systems, Inc., in conjunction with backplane partner Comtel Electronics GmbH, announces the CO-Star(TM) AdvancedTCA(TM) Central Office Shelf. This 19-inch 13U system provides 14 slots electrically and mechanically compliant with the PICMG 3.0 AdvancedTCA(TM) specification. The unit is designed to meet GR-63, GR-1089 UL/EN 60950 EN55024 (in process) for NEBS Level III, and features high reliability, high availability, easy maintenance, and low cost of ownership. It includes multiple redundancy modes and uses high flow rate, high pressure cooling. Other features include high performance shelf management and a high performance backplane designed for 5Gbps rates. Both 14-slot dual-dual star and full mesh versions can be provided as special order.

Reliability-The Tracewell/Comtel CO-Star(TM) reliability target has been met based on two criteria. Schematic design and component selection has targeted high individual MTBF figures for each function. Then each and every functional part has been subjected to a detailed failure analysis to ensure that single points of failure do not materially affect other functions.

Maintainability-Vital to maintainability is the ability to identify all problems down to FRU level. All shelf FRUs provide standard failure alerts. In addition, the unit provides predictive failure non-critical alerts.

Availability-Shelf reliability meets 99.999% (five 9's, with an availability of 99.9999 (six 9's) targeted.

Cooling--The unit handles power dissipation of 200 W per board at 55ºC by using multiple high performance fans in push-pull mode. Fans are located in easily serviced units located above and below the board area. A single fan failure does not significantly degrade system performance.

Field Replaceable Fan Trays-The Fan Tray units have been designed for fast and easy replacement. The control circuits have been optimized to cover component, supply and control failures. To aid maintainability the IPMI sensors include an MTBF record to provide the system manager with a warning when the fan life expectancy is close. The MTBF value is adjusted to allow for high fan operating temperatures.

Field Replaceable Power Entry-Power is provided to the shelf through the rear mounted Power Entry Module (PEM), which provides common and differential mode EMC filters. Power is distributed in a redundant arrangement so that a single power feed or a single PEM can fail without affecting system operation. Power sensors provide alerts when voltages and or currents deviate from expected values.

Shelf Management-Two Force Computers(TM) Shelf Management Controllers are located below the RTM. To ensure a high level of redundancy even with a single controller, every IPMC has a separate control processor for each IPMB with information sharing.

The Shelf Manager manages the usage of Shelf power and the Fan Tray cooling resources to ensure that the Shelf remains within its design limits.

Each Shelf Manager provides redundant IP connections based on 100base-T, with connection to both an external RJ45 connector and to the backplane Base channel 1 in logical slots 1 and 2. Both RMCP and SNMP can be used to interface to the System Manager interface middleware.

Backplane-The CO-Star(TM) product is offered in a Dual Star configuration, and Dual-Dual Star and Full Mesh configurations are also available. The backplane is optimized for high speed use with controlled losses and accurate impedances. Group skew is closely matched. Performance is optimized for speeds greater than 3.125 Gbps.

Power distribution. Power is distributed using dual redundant A and B feed systems, for a total of four feeds for the dual A and dual B power supplies. Typical working voltages are 40.5V to 62V as per ETS 300 132-2. Working current to each slot is 5.1 amps (200W/39.5V). Power entry is provided through four M8 studs mounted on the rear of each PEM.

Price and Availability. Pricing for the complete CO-Star(TM) AdvancedTCA(TM) Central Office Shelf is $10,730 (quantity 10 with dual ShMC and PEMs) and the units are available 8 - 10 weeks ARO.
For more information.

To receive more information on Tracewell's CO-Star(TM) AdvancedTCA(TM) Central Office Shelf, or any Tracewell Systems product, please visit Tracewell on the web at www.tracewellsystems.com or contact the Sales Department at:
567 Enterprise Drive
Westerville, OH 43081
Toll Free: 800-848-4525
Phone: 614-846-6175
FAX: 614-846-4450
Web: www.tracewellsystems.com
E-Mail: sales@tracewell.com

About Tracewell Systems. For more than 25 years, Tracewell Systems, Inc. has provided electronic packaging and integration solutions that enhance the performance of a wide range of VME, VXI, PXI, cPCI, and proprietary bus systems. Tracewell Systems provides levels 0 through 5 of system integration, and specializes in levels 3, 4, and 5.

As a vertically integrated manufacturer with a full range of engineering disciplines, the company can supply complete level 5 system integration, ranging from concept design, software and manufacturing services, to system engineering, PC board assembly, metal fabrication, wiring and functional test. Tracewell offers complete design and manufacture of system packaging, backplanes, power and monitoring systems, supplying everything from off-the-shelf standard products to fully customized and integrated rack systems. Tracewell works as a strategic partner with its customers, adding value through development of system solutions for telecommunications, test and measurement, medical, military and other demanding applications.

More from Mounting & Attaching Products