Cementex Launches PPE Storage Canisters Featuring Stackable Design
Press Release Summary: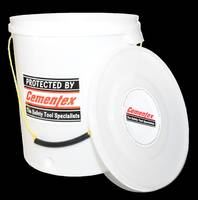 Cementex PPE Storage Canisters come in diameter of 14 in. and height of 16 in. with seal-tight lids and rope handle. Units offer protection for arc flash suits with hoods or face shields and are offered fixed 12-pocket tool wrap. Canisters are designed for storing PPE items like Category 4 Arc Flash PPE Kit with a ventilated hood.
---
Original Press Release:
Cementex Announces Durable, Oversized Storage Canisters for Arc Flash PPE Task Wear
Canisters provide the ultimate in protection for valuable PPE items
Burlington, NJ - Cementex, a national leader in the manufacture of electrical safety solutions, announces the availability of its PPE storage canisters, which provide ultimate protection for arc flash suits with hoods or face shields, thanks to its oversized 14" diameter.
These extra-large, ultra-durable hardsided arc flash storage canisters are designed to withstand the harshest environments and safely store technicians' most delicate and valuable PPE items. At 14" in diameter and 16" tall, the canister's extra-large dimensions enable storage of large PPE items, such as a complete Category 4 Arc Flash PPE Kit with a ventilated hood.
The canisters also feature a stackable design for easy, orderly storage in shops and equipment rooms. Their seal-tight lids ensure secure, reliable closure, and durable rope handles include a comfort grip for easy transport.
Cementex PPE Storage Canisters are available separately or as an upgrade to most Cementex PPE Task Wear kits. Additionally, the canisters are available with a fixed, 12-pocket tool wrap to include all of a technician's most critical tools along with their task wear.
All Cementex products are made in the U.S.A. to the highest standards of quality. For more information about Cementex's industry-leading personal protective equipment, visit https://www.cementexusa.com/
About Cementex
Cementex is the innovative, industry-leading supplier of safety hand tools. As the only double-insulated hand tool supplier that controls the entire manufacturing process from insulation through testing, Cementex has an unparalleled commitment to quality and user safety. With constant innovation in response to customer needs, Cementex is on the cutting-edge of both custom and turn-key engineered insulated tools. The design-driven company is continually innovating while remaining committed to producing only the highest quality safety-based products. For all of your safety equipment needs, including tools, personal protective equipment, and more, turn to the experts at Cementex.
More from Test & Measurement