CellGate Announces New Customer Self-Activation on Their Flagship Watchman W450 Single Family Access Control Product with Live Streaming Video Capabilities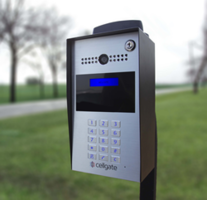 Customer Self-Activation Can Mean Shorter Setup Time and Gives Customers More Control
Carrolton, Texas (PRWeb) November 04, 2020 -- Beginning next week, cellular access control company, CellGate, will begin shipping their best-selling Watchman W450 cellular access control product to its distributor partners with new Customer Self-Activation capabilities.
The W450's new self-activation feature means that once a dealer installs a W450 access control device on a property, the consumer simply needs to download the CellGate app to their smart phone and then they can: register their device with CellGate, activate the new installation, choose their preferred cellular rate plan, and test the product—all from their phone.
The W450's new self-activation also means less required paperwork for dealers who regularly install the devices on customer properties.
CellGate's Watchman W450 is the second access control model that CellGate manufactures that now has Customer Self-Activation capabilities. The first CellGate access control model that came with this feature was the Watchman W410 model, which was introduced for the first time in the fall of 2019.
CellGate President, Noel Gouldin, says that adding the new Customer Self-Activation feature to the Watchman W450 model is just one of the many product feature updates his development team has implemented this year, and clearly solidifies their leadership position in the cellular access control industry. "When we started 2020, we kicked off a 'This Changes Everything' marketing campaign because we knew how many new products and features we were going to roll out during the year. Now that 2020 is winding down, I am so proud of the entire CellGate team for being able to execute and deliver on our long list of industry-leading new hardware and features. The new W450 Customer Self-Activation feature is going to be a huge hit with both dealers/installers and end customers alike, and caps off an exciting year for us."
The Watchman W450s with the new Customer Self-Activation feature will be shipped with bright orange labels on the exterior of the box to make them easy to identify by dealers.
To learn more about CellGate's products, features and functionality, visit their website, http://www.cell-gate.com.
Contact Information:
Erin Noel Fenstermaker
CellGate
http://www.cell-gate.com
2142056825
More from Fluid & Gas Flow Equipment