Celera Motion Offers Agility™ Series Slotless Motors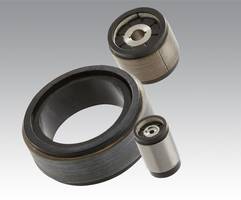 Ideally suited for scanning, pointing, measuring and cutting applications that require extremely smooth velocity control and highly accurate positioning, the Agility Series delivers best-in-class torque ripple and zero cogging.
Engineered with ZeroCog™ slotless motor technology from Applimotion, the effects of cogging torque, magnetic forces, flux harmonics and phase balance and alignment are minimized to counteract the causes of torque ripple. Agility magnetic designs and construction techniques can achieve less than 2% torque ripple.
The Agility Series is offered in a wide range of low-profile form factors with a large through hole for convenient routing of cables, optics, sensing technologies and other system elements. Models are available in diameters from 12mm to 300mm, and with peak torques up to 41Nm.
Frameless direct drive kit construction, high torque density and low mass enables Agility to be tightly integrated into compact, lightweight precision assemblies.
All models are compatible with a wide range of controllers and drives. Windings and form factors can be customized to meet application requirements.
About the Celera Motion
Celera Motion's precision component and subsystem solutions solve application-specific challenges for technology-driven medical and advanced industrial original equipment manufacturers around the world. We welcome the opportunity to discuss how our motion control expertise can help you accelerate your innovation. Bring the challenge. We'll build the solution.
About the Celera Motion product brands
The MicroE brand of miniature precision optical encoders is available in several form factors and mounting options with incremental and absolute interfaces and resolutions up to 1.2nm. A wide selection of rotary and linear scales are available delivering accuracy up to 1μm.
Offering the highest level of design and application expertise, the Applimotion brand of direct drive motors and actuators provide a wide range of solutions that are optimized to solve its customers' motion control system challenges. Applimotion provides optimized solutions ranging from direct drive motor components to fully engineered, validated and tested products and value-add assemblies.
For more information, please visit www.celeramotion.com.
CONTACT:
David Kosewski
Celera Motion
781-266-5051
Contact This Company Download Spec Sheet
More from Communication Systems & Equipment