Ceiling/Wall Tiles absorb sound using recycled glass.
Press Release Summary: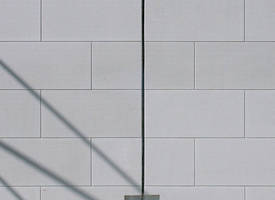 Featuring noise reduction coefficient (NRC) of up to 0.90, PHONSTOP V tiles can be adhered using PHONSTOP pa81 or pa101 adhesive. Panels are available in 24 x 24 x 2 in. and 24 x 48 x 2 in. dimensions. PHONSTOP E tiles are made for ceiling grid applications and feature NRC of up to 0.70, with 24 x 24 x 1 and 24 x 48 x 1 in. sizes available. Both nonfibrous products are Class 1 (A) fire-rated and are resistant to chemicals, moisture, mold, and impact.
---
Original Press Release:

pinta acoustic Introduces PHONSTOP Ceiling and Wall Tiles from 100 Percent Recycled Glass, with Exceptional Acoustical Properties



MINNEAPOLIS - pinta acoustic, inc. has introduced PHONSTOP Ceiling and Wall Tiles made from 100 percent recycled glass sintered to form rigid, lightweight and porous sound absorbers. PHONSTOP products have exceptional acoustical properties.



PHONSTOP V is made for adhesive applications on walls and ceilings. This product has a noise reduction coefficient (NRC) of up to 0.90 to reduce reverberation and echo. Tiles can be adhered - using PHONSTOP pa81 or pa101 Adhesive - directly to walls and ceilings without subconstruction or wall cavity. Panels are available in dimensions of 24- by 24- by 2-inches (610 by 610 by 50 mm) and 24- by 48- by 2-inches (610 by 1220 by 50 mm). Tiles offer two edge options: One face of the tile features 3/8" (9 mm) chamfer beveled edges, while the reverse face has square edges. Tiles are temperature and weather resistant for outdoor applications. In weather-exposed conditions, tiles should have a PHONSTOP pt13 Sealer.



PHONSTOP V tiles are available in natural grey but can be painted on-site with a non-bridging paint applied with an airless sprayer. For a seamless, monolithic appearance on walls or ceilings, tiles should be primed with PHONSTOP pt17 Primer, followed by two layers of PHONSTOP pa85 Plaster applied before painting.



PHONSTOP E is made for ceiling grid applications. It features an NRC of up to 0.70. PHONSTOP E can be mounted in pinta acoustic's or any standard ceiling grid systems. Tiles are available in 24- by 24- by 1-inch nominal (604 by 604 by 25 mm) and 24- by 48- by 1-inch nominal (604 by 1213 by 25 mm) dimensions and are available in natural grey.



Both PHONSTOP products are eligible for LEED credits and can be used indoors and outdoors. The product is Class 1 (A) fire rated. Lightweight, durable PHONSTOP is resistant to chemicals, moisture, mold and impact. Non-fibrous PHONSTOP is easy to install, and easy to cut and drill to accommodate fixtures.



PHONSTOP is suitable for use with antigraffiti systems.



PHONSTOP is ideal for new and renovation projects in environments such as offices, schools, staircases, indoor swimming pools, gymnasiums, underground parking garages, transit stations, factories, shooting ranges, broadcast/audio facilities, cafeterias, religious facilities, assembly and manufacturing areas, public buildings, multifamily buildings and more.



For more information about PHONSTOP tiles and other pinta acoustic products, visit www.pinta-acoustic.com or call 1-800-662-0032.



pinta acoustic, inc. - formerly illbruck acoustic, inc. - manufactures a broad range of attractive ceiling tiles, wall panels and other acoustical materials for commercial and industrial applications, including CONTOUR® Ceiling Tiles, HARMONI Ceiling Tiles, WHITELINE® Ceiling Tiles, SQUARELINE® Metal Ceiling Tiles, BIOLINE® Wood Ceiling Tiles, FABRITEC Wall Panels, SONEX® Panels and Baffles, PHONSTOP™ Ceiling and Wall Tiles, PROSPEC Decibel Drop™ Viscoelastic Damping Compound, PROSPEC® Barrier, Foam and Composite Materials and Ceiling Grid products.



pinta acoustic, inc.

2601 49th Avenue North, Ste. 400

Minneapolis, MN 55430

Toll-free: 1-800-662-0032

Tel.: +1 612-355-4250

sales@pinta-acoustic.com

www.pinta-acoustic.com



Please send all leads generated by this press release to Patti Born – pborn@pinta-acoustic.com

More from Mounting & Attaching Products