Ceiling Strobes provide audible/visible notification.
Press Release Summary: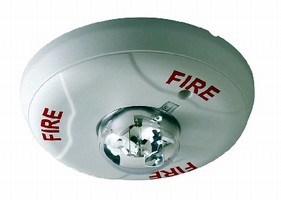 Available in indoor and outdoor models, SpectrAlert® Advance Strobes feature plug-in design, 11 field-selectable candelas, automatic selection of 12 or 24 V operation, and shorting spring on mounting plate for continuity check before installation. Units come in combinations of red and white exteriors with exterior markings in various languages. Series contains wall-mount horns, strobes, horn/strobes, chimes and chime strobes, as well as ceiling-mount strobes and horn/strobes.
---
Original Press Release:

New System Sensor SpectrAlert®Advance Series Ceiling Strobes



St. Charles, IL - System Sensor's SpectrAlert® Advance, the industry's newest, most refined series of audible/visible notification appliances, includes indoor and outdoor selectable-output ceiling strobes. These ceiling strobes have exclusive plug-in designs with a universal mounting plate for easy installation. The strobes are electrically compatible with the extensive SpectrAlert product line and meet all standard agency listings, including UL, FM, MEA, and ADA and are CSFM listed. SpectrAlert ceiling strobes can be selected in standard or high candela, combinations
of red and white exteriors and a selection of exterior markings in various languages.

SpectrAlert Advance features a plug-in design that allows installers to pre-wire mounting plates and check wiring continuity before installing any devices. Other features include 11 field-selectable candelas, automatic selection of 12- or 24-volt operation at 15 and 15/75candela and a shorting spring on mounting plate for continuity check before installation. Ideas for these new features were sparked from extensive nationwide research that System Sensor conducted with commercial fire-system dealers, installers, engineers and designers. The research identified customer priorities relating to audible/visible notification appliances. Top priorities included products that are easier to specify, configure and install.

The SpectrAlert Advance series contains wall-mount horns, strobes, horn/strobes, chimes and chime strobes, as well as ceiling-mount strobes and horn/strobes. System Sensor also offers a complete line of outdoor SpectrAlert Advance products, including ceiling-mount strobes and horn/strobes.

For more information on the company's SpectrAlert Advance ceiling strobes, contact System Sensor - (800) 736-7672. Or visit our website: www.systemsensor.com.

System Sensor is a global manufacturer of fire detection and notification devices, specializing in smoke detection and notification technology. System Sensor places a premium on research and development, resulting in products that are reliable, sophisticated and designed for real-world applications. With sales, service and manufacturing facilities throughout the Americas, Europe and Asia, System Sensor's high quality, innovative products are the most comprehensive in the industry. For additional information, please visit www.systemsensor.com.

About Honeywell:
Honeywell International is a $34 billion diversified technology and manufacturing leader, serving customers worldwide with aerospace products and services; control technologies for buildings, homes and industry; automotive products; turbochargers; and specialty materials. Based in Morris Township, N.J., Honeywell's shares are traded on the New York, London and Chicago Stock Exchanges. It is one of the 30 stocks that
make up the Dow Jones Industrial Average and is also a component of the Standard & Poor's 500 Index. For additional information, please visit www.honeywell.com.

Contact:
David George 630/377-6674 x1385
James Nowakowski 847/358-4848

More from Chemicals & Gases