CDS1 Display Switch features aluminium rings.
Press Release Summary: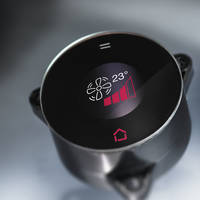 CDS1 Display Switch can be operated using the touch of a finger, swipe or rotation on the touchscreen. Unit is operated in a temperature range of -20°C to +60°C and mounted on the front panel using mounting ring and screws. Product features 16 bit color OLED, 128 x 128 pixel display and supply voltage of 3.3 VDC. CDS1 is integrated with 4 MB internal mass storage and is IP67 rated when used with O-ring. Switch comes with control communication interfaces such as I2C, SPI or RS232.
---
Original Press Release:
Configurable Display Switch CDS1 for the Most Distinguished Applications
SCHURTER introduces its new generation of human-machine interfaces with the CDS1, a switch sized input system using capacitive touch technology. The intuitive operation with the touch of a finger, swipe or rotation on the touchscreen conveniently resembles that of a smartphone, delighting users with visual and sophisticated taste.
Plug-and-Play can't be easier. Unpack, connect and immediately begin using the machine simulator (Windows) provided. Fully configurable, the user decides on the imagery to be used for selection. The selection is then activated with just a swipe of the bright round OLED display. Tap the home LED to return to the home screen. Change up the image or add features like subtle fade-in and fade-out. The same flexibility applies to the glass screen, e.g. any symbols on the softkeys are possible. All images, graphics and animations can be loaded to its 4 MB internal mass storage via Micro USB 2.0 interface. Standard machine control communication interfaces I2C, SPI or RS232 are available.
The CDS1 is mounted on the front panel from the rear using a special mounting ring and screws. It has a seal protection rating of IP67 when used with the O-ring, IP40 without. An added aluminum decorative ring accentuates the design. Supply voltage is 3.3 VDC. Display is 16 bit color OLED, 128 x 128 pixel. Touch screen is full size PCAP. Operating temperature is -20°C to +60°C. Applications include high end industrial appliances, professional audio, commercial food service appliances, sophisticated home appliances, equipment and appliances such as vending, service kiosks used in specialty public venues, specialty lab equipment.
Pricing for the CDS1 starts at about $200.00 per each. Data sheet and additional information are available at: CDS1.schurter.com. For sales and product information, contact Cora Umlauf at (800) 848- 2600 or by email at info@schurterinc.com.
About SCHURTER Inc.
SCHURTER is a progressive innovator and manufacturer of Circuit Protection, Connectors, Switches, and EMC Products to the electronic and electrical industries worldwide. SCHURTER's three divisions: Components, Input Systems and Electronic Manufacturing services are formed to provide customer specific products and services, which focus on clean and safe supply of power and making equipment easier to use. These core competencies bring a high degree of innovation to SCHURTER's main markets IT / Telecom, Medical, Space and Energy.
SCHURTER meets its customers' highest demands through certified quality, environmental and safety management systems including ISO 9001, ISO 14001, OHSAS 18001 and highly developed processes (Six Sigma method). Excellent services are upheld through the consistent application of an all-encompassing quality management system.
SCHURTER Inc., Santa Rosa, California is the exclusive North America sales and distribution office for the SCHURTER Group.
Contact:
SCHURTER INC.
447 Aviation Boulevard
Santa Rosa, CA 95403
Telephone 707 636 3000
Facsimile 707 636 3033
Contact This Company Download Spec Sheet
Related