CD Source Retrofit Package supports continuous operation.
Press Release Summary: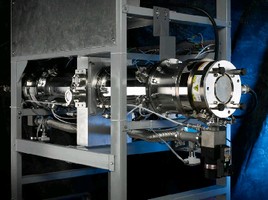 Designed to support Intevac 200 lean disk manufacturing system, Diamonex CD Source(TM) Retrofit Package meets requirements of ultra-thin carbon overcoats for magnetic recording hard disks. Broad-beam, high-current density design minimizes surface damage from high-energy ion, while gridless ion source provides high ion flux. Substrate biasing is not required, as ion beam from CD ion source is neutralized to prevent charging. Source employs dc power supply, avoiding issues of RF tuning.
---
Original Press Release:

Diamonex Products Introduces CD Source Retrofit Package



The Diamonex® Products Division of Morgan Advanced Ceramics (MAC), a world-leading supplier of innovative ceramic solutions for the medical, telecommunications, semiconductor and aerospace markets, introduces its CD SOURCE(TM) Retrofit System to support the Intevac® 200 Lean® disk manufacturing system. Diamonex CD SOURCE Retrofit Systems are designed to meet the demanding requirements of ultra-thin diamond-like carbon (DLC) overcoats for current and next-generation magnetic recording hard disks.

The Diamonex CD SOURCE Retrofit Systems are robust and readily integrated into existing hard disk manufacturing deposition systems. The hardware is designed with manufacturing environments in mind for continuous operation over extended run times. The CD SOURCE anode is a patented design that allows significant build-up of material on the anode channel surfaces without compromising source stability. Long-run stability has been shown in customer applications where the source will run continuously for over 170-hours with constant DLC film quality.

The broad-beam, low-energy, high-current density design of the CD SOURCE minimizes surface damage from high-energy ions. Its hall-current, closed-drift design results in a gridless ion source that provides a high ion flux. Substrate biasing is not required, as the ion beam from the CD SOURCE is fully neutralized to prevent substrate charging. The source employs a DC power supply, avoiding the issues of RF power. The robust design does not contain filaments that may degrade or break during critical processes. The system has no process gas restrictions, and therefore, aggressive etch gases can be used if required.

The CD SOURCE Retrofit System for the 200 Lean system is currently available for demonstration at a customer's site. This package consists of two 1600 lps turbomolecular pumps, backed by a single dry scroll pump. Two process chambers attach to opposite sides of the 200 Lean process module, with an internal CD SOURCE positioned concentrically within each process chamber. The ion sources are powered by two integrated modular power supplies (IMS), the most compact and latest power supply design from Diamonex. The IMS consists of an Advanced Energy® Pinnacle® supply to provide power to the anode and hollow-cathode and an Integrated Magnet Module (IMM). The IMM sends power to the CD SOURCE electromagnet and provides beam parameter control through a feedback loop or by manual control. The IMM also includes the required inputs for accepting the disk coating systems automation signals.

A Diamonex CD SOURCE Retrofit System is now available for major OEM platforms including the Intevac 250B and 200 Lean, and the Anelva® C-3010 and 3040, with an installed base of manufacturing tools. The CD SOURCE can also be integrated into existing disk manufacturing tools for surface cleaning and texturing.

About Morgan Advanced Ceramics
Morgan Advanced Ceramics (MAC) manufactures products from a comprehensive range of materials. Supplying to a variety of demanding markets, MAC has established an enviable reputation for providing value-added solutions through world-class research and development, innovative design and, perhaps most important of all, application engineering.

As subsidiaries of The Morgan Crucible Company, Morgan Advanced Ceramics and Morgan Electro Ceramics form part of the Morgan Technical Ceramics Group. With manufacturing locations in North America, Europe and Asia, Morgan Technical Ceramics supplies an extensive range of products, including ceramic components, braze alloys, ceramic/metal assemblies and engineered coatings. For more information on Morgan Advanced Ceramics visit www.morganadvancedceramics.com or contact one of our sales offices below:

UK & Eire
Morgan Technical Ceramics, Bewdley Road, Stourport, Worcestershire, DY13 8QR.
Tel: +44 1299 872210 Fax: +44 1299 872218
Email: uksales@morganadvancedceramics.com

Mainland Europe
Morgan Technical Ceramics Sales, Teplitzerstr. 27, D-84478 Waldkraiburg, Germany
Tel: +49 8638 6004 326 Fax: +49 8638 6004 327
Email: eusales@morganadvancedceramics.com

North America
Morgan Technical Ceramics Inc, 26 Madison Road, Fairfield, NJ 07004, USA
Tel: 1 800 433 0638 Fax: 1 973 808 2257
Email: ussales@morganadvancedceramics.com

Asia
Morgan Technical Ceramics, 158 Jiajian Road, Jiading, Shanghai 201818, People's Republic of China.
Tel: +86 21 5990 0687 Fax: +86 21 5990 3241
Email: mmsh@sh163.net

More from Electrical Equipment & Systems