CCTV Video Transmitters/Receivers have self-healing feature.
Press Release Summary: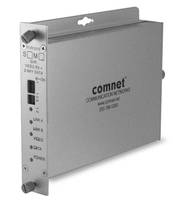 Digital fiber optic video transmitters and receivers with bi-directional data include FVTFVR1010SHR single channel with data series, FVT/FVR4014SHR with 4 video and data channels, and FVT/FVR8018SHR with 8 video and data channels. In event of broken fiber connection, video and data transmission is seamlessly re-routed when system is configured in ring topology. Bi-directional data transmission allows for camera PTZ function to be controlled from any monitoring location.
---
Original Press Release:

New ComNet Product Increases CCTV System Reliability



ComNet SHR Product Line Seamlessly Restores CCTV Transmission Network

Las Vegas, NV. April 1, 2009, Communication Networks of Danbury, Connecticut, doing business as ComNet(TM), a manufacturer of fiber optic transmission and networking equipment, has introduced a revolutionary new fiber optic video product line that can seamlessly restore a CCTV network. The ComNet SHR line consists of the FVTFVR1010SHR single channel with data series, the FVT/FVR4014SHR series four video channels with four data channels and FVT/FVR8018SHR series eight video channels with eight data channels. All models are digital fiber optic video transmitters and receivers with bi-directional data that incorporate a unique self-healing feature. In the event of a broken fiber connection the video and data transmission is seamlessly re-routed when the system is configured in a ring topology. This feature, combined with ComNet product's exceptional reliability ensure a virtually failsafe CCTV network.

This network can consist of up to 8 video inputs and each must be inserted by an individual FVT1010SHR, or by two FVT4014SHR models or a single FVT8018SHR on the ring network. The ring network can have an unlimited number of FVRSHR receiver units located on it and monitoring of each of the 8 video inputs can be received and viewed from any receiver location or combination of receiver locations.

In addition, the bi-directional data transmission allows for the camera PTZ function be controlled from any monitoring location.

According to Vic Milani, ComNet VP of Product Development, "This product is unique in that it can mirror the video functionality that IP video Ethernet networks offer without the inherent complexity. This network is truly 'plug-and-play'." In comparison to Ethernet 'drop and insert' video networks, the ComNet FVT/FVR SHR products are far simpler to integrate and can be installed without trained IT personnel. They also are a more cost-effective alternative due to eliminating the need for video encoding, as well as the Ethernet network traffic management equipment. The video quality of the ComNet FVT/FVR SHR product line is very high quality, meeting RS-250C Short Haul parameters. It is true real-time 30FPS broadcast quality and not subject to the compromises encountered with current IP-video compression schemes," Milani continued.

"With the introduction of this unique video and data product series, we are just adding to what is going to be a very complete fiber optic product line.", said Skip Haight, ComNet(TM) Vice President of Marketing. "The product lines we're introducing now are the result of years of fiber optic experience and understanding of all facets of the security transmission market. But the major difference between ComNet(TM) and the other suppliers is the customer care experience we offer. ComNet(TM) is a complete full-service company and not just a product line. From the initial contact forward, our customers will be truly surprised about how good the customer experience is." Haight continued.

ComNet(TM) offers an extensive line of fiber optic video and data transmission equipment as well as a line of Ethernet Network equipment that is uniquely toughened to meet the needs of the Security and Intelligent Transportation System market. Full product line details are available at www.comnet.net. The ComNet(TM) product line is represented by some of the top manufacturer rep firms in the US and Canada. Call direct 203-796-5300 or email sales@comnet.net for details.

For more information, please contact Skip Haight at 203.796.5340; or e-mail ComNet at marketing@comnet.net. You may also find ComNet on the World Wide Web at www.comnet.net. Electronic files of this release and photos of ComNet products are available by contacting the ComNet Marketing Department via e-mail at fhaight@comnet.net


More from Mechanical Power Transmission