CCTV Camera Pros Mobile App for Android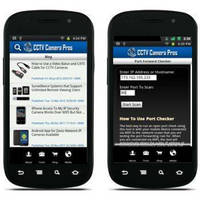 CCTV Camera Pros Launches Free Android App that Includes Online Security Installer Tools.

Lantana, FL. - CCTV Camera Pros (www.cctvcamerapros.com), a direct supplier of video surveillance equipment, today announced the availability of CCTV Camera Pros Mobile App for Android. In addition to letting customers research and shop for surveillance products from their Android phone, the app also contains handy installation tools for security installers to use when planning and installing security camera systems. CCTV Camera Pros will be adding additional tools based on feedback and requests from users of the application. In this first release, the app contains the following tools.

· What is my IP address - allows users to quickly obtain the WAN / Internet IP address of the Internet connection that their Android device is connected to.
· Port Forward Checker - allows users to test router port forwarding rules, when setting up IP cameras, network DVRs, or other network devices for remote Internet access.
· Voltage Drop Calculator - used by low voltage installers to calculate AC or DC voltage drops in amps according to cable run distance and power required by the device.
· Voltage to Watts Converter - allows users to convert volts, watts, and amps.

Commenting on the new mobile app for Android, CCTV Camera Pros co-founder Mike Haldas says: "I am proud that our company continues to stay on the cutting edge of technology being able to launch exciting new things like mobile applications to help our customers. The feedback that we received from installers and DIY customers when we released our installer tools on the website was outstanding. Many of them requested mobile versions and we listened. Thanks to our mobile application development partner, AppBurst (www.appburst.com), we were able to quickly deploy our mobile solution. In the future, we plan on adding additional digital tools in the app as well as an Android version of our iCamViewer. Our iCamViewer allows users to view IP security cameras from their mobile phone. The app is currently available for iPhone."

CCTV Camera Pros Mobile App for Android is available to download for free from the Google Play store here:
https://play.google.com/store/apps/details?id=com.appburst.cctvcamerapros

About CCTV Camera Pros
CCTV Camera Pros is a direct supplier of security cameras and video surveillance systems for home, business and government. We are proudly a US veteran owned business and are located in Lantana, Florida in Palm Beach County. CCTV Camera Pros can assist in the design of IP and CCTV surveillance systems for any size application. Please visit www.cctvcamerapros.com to learn more about us and the products that we supply.

More from Cleaning Products & Equipment