CCD Laser Beam Profilers have firewire interface.
Press Release Summary: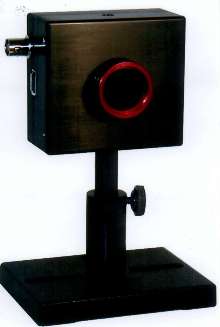 Digital BeamStar FX Series works with laptop or desktop PCs to provide everything necessary for beam profiles of pulsed and CW lasers from µW to W. System consists of camera, filters, laptop or PC card, and software. Trigger input lets BeamStar FX 33 and FX 50 synchronize with trigger output from pulsed laser. Series features automatic gain and exposure adjustment as well as automatic photodiode synchronization with pulsed lasers.
---
Original Press Release:
Beamstar FX Series Firewire CCD Laser Beam Profilers

Wilmington, MA, April 2004...Ophir Optronics, Inc., leaders in advanced technology for the measurement of laser power, energy and wavelength, introduce their completely new BeamStar FX series of digital laser beam profilers. The FX series are the most sophisticated beam profilers on the market today. With their firewire interface, they work equally well with laptop or desktop PCs. Ophir's BeamStar firewire CCD beam profilers provide all you need for beam profiles of both pulsed and CW lasers from µW to Watts. The system consists of a camera, filters, laptop or PC card, software and detailed instructions.

The BeamStar FX 33 and FX 50 have a trigger input to synchronize with the trigger output from a pulsed laser. These profilers have an exclusive optional photodiode trigger that picks up the scattered laser light and automatically synchronizes with the laser pulses even for a nanosecond or shorter pulses. The FX series has exclusive automatic gain and exposure adjustment and automatic photodiode synchronization with pulsed lasers. The FX series has 1/3", ½" and 2/3" cameras, in addition to solutions for UV and IR and beam expansion or reduction. These features make the BeamStar FX Series easier and more accurate than ever before.

Ophir offers BeamStar FX cameras that have automatic continuous shutter and gain control, which provides highly accurate measurements. The cameras come supplied with a set of filters that are very easy to mount or dismount from the cameras. A number of accessories that are available le with the BeamStar cameras and the BeamStar software can be found in Ophir's new 2004 catalog.

The Company

For more than 25 years, Ophir Optronics, Inc. has set the standard for the measurement of laser power and energy. Ophir, an ISO 9002 company, employs over 200 engineers, technicians and skilled workers. The company manufactures optical instrumentation, optical components and non-contact optical equipment for distance measurement and three-dimensional mapping of objects. The company's products are sold worldwide in over 25 countries. Ophir maintains marketing, sales and service centers in the USA, Japan, Israel and Germany.

For further information contact:

Laurie Beausoleil (Ophir Optronics, Inc.)

Tel: 800-383-0814

Fax: 978-657-6054

E-mail: sales@ophiropt.com

www.ophiropt.com

More from Machinery & Machining Tools