Vision and Imaging Sensors / Detectors
CCD Image Sensor exhibits optimized NIR performance.
Press Release Summary: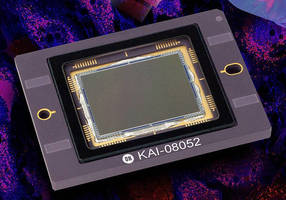 Available in monochrome, bayer color, and sparse color configurations, KAI-08052 provides optimized sensitivity in NIR wavelengths for such applications as scientific and medical imaging or machine vision and intelligent transportation systems. CCD pixel design extends electron capture region for capture of electrons generated by long wavelength photons. This pixel well depth promotes NIR wavelength detection while also isolating photodiodes from each other to negate image sharpness reduction.
---
Original Press Release:

ON Semiconductor Enhances Near-Infrared Performance of CCD Image Sensors



New 8-megapixel device is first with improved near-infrared sensitivity for scientific and medical imaging, machine vision, and intelligent transportation systems



PHOENIX, AZ – ON Semiconductor (Nasdaq: ON), driving energy efficient innovations, is enhancing imaging performance in demanding industrial applications with technology that improves the near-infrared sensitivity of CCD image sensors.



The 8 megapixel (MP) KAI-08052 image sensor, the first device in ON Semiconductor's CCD portfolio to leverage this new technology, provides up to twice the sensitivity in near-infrared (NIR) wavelengths as the company's standard Interline Transfer CCD pixel design.  This enhanced sensitivity can be critical in applications such as scientific and medical imaging, where samples emit or fluoresce in NIR wavelengths; or in machine vision and intelligent transportation systems (ITS), where NIR illumination is often used to better examine an object or to isolate a vehicle's license plate.



The new CCD pixel design used in the KAI-08052 extends the electron capture region deeper in the silicon to better capture electrons generated by long wavelength photons.  This deeper pixel well improves detection of NIR wavelengths by up to a factor of two depending on the specific wavelength studied.  And since the well structure also isolates the photodiodes from each other, this increase in NIR sensitivity comes without any reduction in image sharpness (modulation transfer function, or MTF).



"Camera manufacturers and end customers continue to confirm that products based on both CCD and CMOS technologies will be needed in these markets, making it important that we continue to develop and advance both of these technologies," said Herb Erhardt, Vice President and GM, Industrial and Security Division, Image Sensor Group at ON Semiconductor. "The KAI-08052 provides a significant improvement in NIR sensitivity compared to our standard pixel design, and we look forward to utilizing this technology in additional products in the future."



The KAI-08052 is available in a RoHS-compliant CPGA-67 package in Monochrome, Bayer Color, and Sparse Color configurations, and is fully pin compatible with the existing KAI-08051 image sensor as well as a full family of 5.5 µm and 7.4 µm CCD image sensors, enabling camera manufacturers to quickly adopt the new device.

 

About ON Semiconductor

ON Semiconductor (Nasdaq: ON) is driving energy efficient innovations, empowering customers to reduce global energy use. The company is a leading supplier of semiconductor-based solutions, offering a comprehensive portfolio of energy efficient power management, analog, sensors, logic, timing, connectivity, discrete, SoC and custom devices. The company's products help engineers solve their unique design challenges in automotive, communications, computing, consumer, industrial, medical, aerospace and defense applications. ON Semiconductor operates a responsive, reliable, world-class supply chain and quality program, a robust compliance and ethics program, and a network of manufacturing facilities, sales offices and design centers in key markets throughout North America, Europe and the Asia Pacific regions. For more information, visit www.onsemi.com.

 

Follow @onsemi on Twitter.



ON Semiconductor and the ON Semiconductor logo are registered trademarks of Semiconductor Components Industries, LLC. All other brand and product names appearing in this document are registered trademarks or trademarks of their respective holders. Although the company references its website in this news release, information on the website is not to be incorporated herein.



Contacts

Veronika Holscher

Media Relations

ON Semiconductor

(408) 660-2688

Veronika.Holscher@onsemi.com



Parag Agarwal

Vice President Investor Relations

ON Semiconductor

(602) 244-3437

Parag.Agarwal@onsemi.com



Issued by:

Hannah Hines, Pinnacle Marketing Communications Ltd

Tel: 00 44 (0) 20 8429 6547

Email: h.hines@pinnaclemarcom.com

Web: http://www.pinnacle-marketing.com

Related