CC/CV Power Source provides up to 400 A at 60% duty cycle.
Press Release Summary: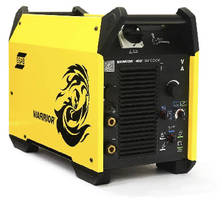 Designed to accept 3-phase primary power from 220–460 V ±10%, 50/60 Hz, Warrior™ 400i MV has total output range of 5–400 A for welding .030–5/64 in. cored wire and solid wires. SCT Technology provides automatic burn-back function that, after every stop, leaves wire-end in perfect shape ready for next start. For Stick welding, operators can choose from 3 different modes that optimize arc characteristics. Multi-process welder has low-end control to provide stable TIG arc down to 5 A.
---
Original Press Release:

Rugged ESAB Warrior 400i MV CC/CV Power Source Designed For Location and Primary Power Flexibility



Florence, SC – ESAB Welding & Cutting Products introduces the new Warrior™ 400i MV CC/CV, a multi-voltage, multi-process welding machine with the flexibility to accept three-phase primary power ranging from 220V to 460V±10%, 50 or 60 Hz. The Warrior 400i MV weighs 133 lbs., offers premium welding and gouging performance, provides up to 400 amps at 60% duty cycle and has a total output range of 5 to 400 amps.



Designed with end-user input, the Warrior 400i MV has a simple and clear interface for process selection and adjustment with all controls — including the power switch — on the front panel. It welds .030 – 5/64 inch cored wire and solid wires and features SCT Technology, which provides an automatic burn-back function that, after every stop, leaves the wire-end in perfect shape ready for next start. For Stick welding, operators can choose from three different modes that optimize arc characteristics for basic (7018), cellulosic (6010) and rutile (6013) performance, plus Hot Start and arc force control for fine tuning. The unit has the low-end control to provide a stable TIG arc down to 5 amps, yet has the power to gouge with carbon-arc electrodes up to 5/16-inch diameter.



Heavy Duty Productivity



ESAB designed the Warrior 400i MV for highly reliable performance in demanding applications where users require location and process flexibility, including fabrication, construction, pipeline, heavy equipment repair, ship building, power plants, maintenance and repair and rental. In these applications, welders often work at a distance from the power source. "Sun-friendly" displays enable operators to easily see voltage and wire feed speed parameters outdoors. When used in combination with a Tweco® Spray Master® Velocity™ MIG Gun, consumable parts life is improved up to 5X or more in some applications.



A durable external body withstands the elements, while the Warrior's air tunnel design keeps critical electronics free from dirt, oil and foreign objects, ensuring long-term reliability. Ergonomically designed handles are built to withstand mechanical hoisting, and double-bend 14-gauge galvanized steel side panels protect against collisions and drops. The control and power cables are held together and protected by fire resistant sheath, and all feature tool-less connections.



The Warrior's inverter-based design provides outstanding arc performance and energy savings in a competitively priced unit, making inverter technology affordable for every welding application. The unit tolerates voltage fluctuations within its 198V to 506V operating range (220V to 460V±10%), making it generator compatible and suitable for use in locations with dirty power.



System Solutions



ESAB offers two wire feeders to pair with the Warrior 400i MV:



The Warrior Feed 304, a bench top style feeder with a bobbin cover; its four-roll drive with tachometer feedback providers superior feeding performance with wire spools up to 60 lbs.



The MobileFeed 201 AVS (maximum spool size of 8-inches) features an impact-resistant, reinforced nylon case.

Warrior welding systems provide superior starts and an extremely smooth and stable arc transfer with excellent weld finishes. To further optimize results, ESAB recommends using premium electrodes, such as OK Aristorod 12.50 ER70S-6 solid wire, Dual Shield Flux-Cored wires and Atom Arc 7018 Acclaim Stick electrodes.



For more information about Warrior, visit www.esabna.com/warrior.



ESAB Welding & Cutting Products is a recognized leader in the welding and cutting industry. From time-honored processes in welding and cutting to revolutionary technologies in mechanized cutting and automation, ESAB's welding filler metals, equipment, and accessories bring solutions to customers around the globe. For more information, visit www.esab.com or call 1-800-ESAB123.



FOR MORE INFORMATION, CONTACT:

Indy Datta

940-395-5466

indy.datta@esab.com



More from Packaging Products & Equipment