CBMC Circuit Breaker features electronic adjustable channels.
Press Release Summary: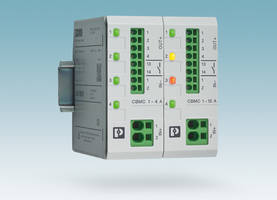 Meeting NEC Class 2 standards, CBMC Circuit Breaker is designed with four channels for protection against overload and short circuit. Unit limits total output power to less than 100 W per channel when it is connected to 24 V DC applications. Measuring 36 mm wide, unit's channels can be adjusted from 1 A to 4 A. CBMC are also available with four-channel configuration with 1 to 10 A adjustable current setting.
---
Original Press Release:
Compact and Configurable Circuit Breaker
The new CBMC circuit breaker from Phoenix Contact combines a compact design with custom configurability. It is also Phoenix Contact's first circuit breaker to receive NEC Class 2 approval.
The CBMC measures just 36 mm wide and has four channels to protect against overload and short-circuit current in electrical applications. Each channel is electronic and adjustable from 1 A to 4 A, giving the overall component the ideal protection level for NEC Class 2. When installed in a 24 V DC application, the CBMC limits the total output power to less than 100 W per channel.
The new circuit breaker can also be programmed at the factory to pre-specified current values. This reduces installation and initial set-up time. When ordering, the user can decide whether to make the settings permanent, or to allow future modification of the current settings.
The CBMC is also available in a non-NEC Class 2 version with adjustable current settings from 1 to 10 A in a four-channel configuration. Learn more at: www.phoenixcontact.com/cbm.
About Phoenix Contact
Phoenix Contact develops and manufactures industrial electrical and electronic technology products that power, protect, connect and automate systems and equipment for a wide range of industries. Phoenix Contact GmbH & Co. KG, Blomberg, Germany, operates 50 international subsidiaries, including Phoenix Contact USA in Middletown, Pa.
For more information about Phoenix Contact or its products, visit http://www.phoenixcontact.com, or call technical service at 800-322-3225, e-mail info@phoenixcon.com.
Contact:
Molly McGowan
PR Specialist
Phoenix Contact USA
PO Box 4100
Harrisburg, PA 17111
Phone: 7179441300
Contactemail: mmcgowan@phoenixcon.com
More from Software