Cavity and Beam Delivery Mirrors fit Trumpf lasers.
Press Release Summary: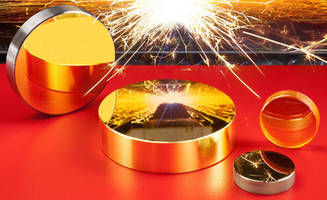 LRO Cavity/Resonator and External Beam Delivery Optics for Trumpf® lasers feature plane-parallel configurations and include zero phase-, phase lock-, rear mirrors, output couplers, and phase retarders in 38-68 mm sizes. Made from mirror-grade single crystal silicon, mirrors have silver coat for 99.6% min reflectance @ 10.6 µm. Products meet ISO-10110 specifications for optical elements and have 1/40th wave max flatness and typ 20-10 scratch-dig surface quality.
---
Original Press Release:

Cavity & Beam Delivery Mirrors Direct Replacements Fit Trumpf Lasers



A new series of aftermarket OEM-quality cavity and beam delivery mirrors for Trumpf® lasers that are available from stock with 24-hour delivery is being introduced by Laser Research Optics of Providence, Rhode Island.

LRO Cavity/Resonator and External Beam Delivery Optics for Trumpf® lasers feature plane-parallel configurations and include zero phase-, phase lock-, rear mirrors, output couplers, and phase retarders in 38 to 68 mm sizes. Made from mirror-grade single crystal silicon, these mirrors have an enhanced silver coat for 99.6% minimum reflectance @10.6 µm.

Meeting ISO-10110 specifications for optical elements, LRO Cavity/Resonator and External Beam Delivery Optics for Trumpf® lasers have 1/40th wave maximum flatness and typical 20-10 scratch-dig surface quality.

LRO Cavity/Resonator and External Beam Delivery Optics for Trumpf® lasers are priced according to size and type. Pricing is provided upon request and delivery is from stock within 24-hours.

For more information contact:

Laser Research Optics
A Division of Meller Optics, Inc.
Scott Rouillard, Sales Mgr.
120 Corliss St.
Providence, RI 02904
(888) 239-5545 FAX (401) 331-4004
e-mail: scott@laserresearch.net
www.laserresearch.net

More from Electronic Components & Devices