Category 6a RJ45 Plugs accept AWG23 to AWG24 horizontal cables.
Press Release Summary: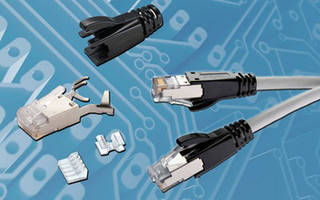 Model SS-39200-027 Category 6a 8P8C modular plugs accommodate conductor sizes with up to 0.048 in. dia. Units feature load bar, snag-less strain relief boot to prevent plug tab damage during installation, and wire aligner to ensure precise conductor placement during assembly, manufactured of UL94-V0 polycarbonate with 50 µin. gold-plated contacts. Shielded, UL Listed plugs operated in temperatures from -40 to +85°C and are rated for 150 Vac and for currents up to 1.5 A at 25°C.
---
Original Press Release:
Stewart Connector's New RJ45 Plugs for Large Diameter CAT6a Horizontal Cables
Devices Accept Cable Diameter Range of AWG23 to AWG24 and Accommodate Conductor Sizes up to 0.048" in Diameter

Glen Rock, PA - Stewart Connector, a division of Bel Fuse Inc., (NASDAQ: BELFA and BELFB) today announced the release of large diameter Category 6a 8P8C modular plug (SS-39200-027) The new RJ45 plugs are the latest addition to Stewart Connector's extensive portfolio of connectors designed to support Gigabit Ethernet (1000Base-T) and 10 Gigabit Ethernet (10GBase-T) transfer rates, along with PoE (Power over Ethernet).  They notably accept a cable diameter range of AWG23 to AWG24 and accommodate conductor sizes up to 0.048" in diameter. The UL Listed, RoHS-compliant connectors are specifically offered to support terminations requiring horizontal cabling, which extends from the telecommunications outlet in the work area to the horizontal cross-connect in the telecommunications room.  Horizontal cabling is often specified in direct connect or consolidation point applications where link lengths exceed 10 meters (33 feet).  Since the cabling used in these systems is typically made of AWG23 or AWG24 solid conductor copper and is larger than traditional patch cable, standard modular plugs cannot be used.  Due to Stewart's proprietary contact design and unique conductor load bar, the SS-39200-027 large diameter plug is able to terminate the large diameter horizontal cabling in the same form factor as traditional RJ45 modular plugs.

Stewart Connector's low-profile, large diameter, modular plugs are well suited for high-density switches and routers, and can be used in both shielded and unshielded applications.  They feature a snag-less strain relief boot to prevent plug tab damage during installation and a wire aligner to ensure precise conductor placement during assembly.  Moreover, the CAT6a connectors boast 360-degrees of shielding to protect signals from external noise.

Plug, load bar and wire aligner are manufactured of UL94-V0 polycarbonate and feature 50 microinches gold-plated contacts for robust, long-lasting connections.  Additional specifications include an operating temperature range of -40 degrees C to +85 degrees C, and durability of 750 matching cycles.  Voltage rating is 150 VAC, and current rating is 1.5 A @ 25 degrees C.  Parts are field installable with standard Stewart Connector's termination tooling.  Plug kits are offered individually bagged in packaging suited for field installation as well as bulk packaged for factory terminations. For detailed information on Stewart Connector's complete modular plug offering, visit http://belfuse.com/ethernet/modular-plugs/.

Average pricing for Stewart Connector's large diameter RJ45 CAT6a (SS-39200-027) plugs is $1.93 each in quantities of 500.  Delivery is from stock.  Samples are available.

Bel (www.belfuse.com) and its divisions are primarily engaged in the design, manufacture, and sale of products used in networking, telecommunications, high-speed data transmission, commercial aerospace, military, transportation, and consumer electronics.  Products include magnetics (discrete components, power transformers and MagJack® connectors with integrated magnetics), modules (DC-DC converters and AC-DC power supplies, integrated analog front-end modules and custom designs), circuit protection (miniature, micro and surface mount fuses) and interconnect devices (micro, circular and filtered D-Sub connectors, fiber optic connectors, passive jacks, plugs and high-speed cable assemblies).  The Company operates facilities around the world.

Stewart Connector
11118 Susquehanna Trail South
Glen Rock, PA 17327
717-235-7512; Fax: 717-235-4675
Web Site: www.belstewart.com
 
Related