Catch and Carry Gage provides statistical process control.
Press Release Summary: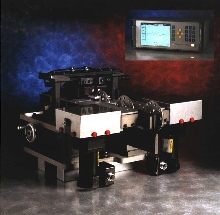 Thrufeed Disc Grinder Gage System employs dynamic gaging fixture that measures each part as it leaves grinder. Size data is processed by statistical controller. System provides closed-loop automatic grinder control based on real-time part size. Part changeover can be accomplished in approximately 5 minutes. Gage measures parts from .09 to 1.5 in. thick at speeds to 300 ipm. Part diameters range from 1 to 6 in., and gage handles part shapes such as squares and rectangles.
---
Original Press Release:
Fast Part Changeover Dynamic Disc Grinder Gage System

"Catch-and-carry" gage provides statistical process control while eliminating gaging backpressure that can negatively impact grinder performance

Ann Arbor MI, Control Gaging Inc.

Control Gaging's new Thrufeed Disc Grinder Gage System measures each part individually as it leaves the grinder. Size data from the gage is processed by a statistical controller. The gage system provides closed-loop automatic grinder control based on real-time part size for improved size control and reduced grinder supervision requirements. In order to facilitate rapid production line reconfiguration, part changeover can be accomplished in approximately 5 minutes.

To measure the parts, a dynamic gaging fixture is mounted adjacent to the grinder's exit guides. As parts exit the grinder they flow immediately into the fixture and are transported through the fixture captured between urethane belts. This "catch-and-carry" gage method eliminates any gaging induced backpressure that may negatively impact grinder performance. Part types measured include bearings, valve seat inserts, fine blanked parts, rings and many others.

The Thrufeed Disc Grinder gage can measure parts in a thickness range for .09" to 1.5" at speeds up to 300 inches per minute. Part diameter range is from 1" to 6" and the gage can handle unusual part shapes such as squares and rectangles.

The Statistical Controller takes the measurement data and assembles it into subgroups and generates an average plot which is displayed in X-bar & R format. This allows the operator to see size distribution and trend at a glance. If the size trend indicates a need for wheel compensation, then a signal is automatically sent to achieve the desired compensation. Seven different compensation methods are available.

To insure that the grinder operates at its best capability, the statistical controller varies the amount of compensation based on the current control limits. For example, a grinding wheel wearing at a rate of .001" every 1000 parts will yield less part size variability if the compensator makes 100 corrections of .00001 inch rather than 2 corrections of .0005 inch.

The reduced part variability caused by the smaller and more frequent compensation will allow the control limits to be further tightened. This iterative process tightens the control limits so that the grinder produces parts at the highest Cpk the grinder's capability will allow.

The Thrufeed Disc Grinder Gage can also be used as a stand-alone part thickness gage. The stand-alone gage is fitted with a bowl feeder or other suitable part feeding device along with a parts diverter for sorting out-of-tolerance parts. Each and every part is measured individually as it passes through the dynamic fixture.

Control Gaging provides automatic gaging for a wide range of manufacturers including: bearing, automobile, truck, aerospace, motorcycle, outboard motor, fractional horsepower engine, pumps, compressors and many others. They have been QS-9000 certified to the Tooling and Equipment Supplement (TE) since June 2000.

For more information please contact: Rick Scholz, 734.668.6750 or rscholz@controlgaging.com
More from Electrical Equipment & Systems