Catalytic Mufflers suit Nissan LPG-powered forklifts.
Press Release Summary: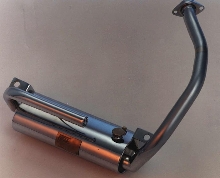 Built from corrosion resistant materials, Nett® catalytic mufflers are direct-fit units. Their built-in, three-way emission control catalyst eliminates emissions of carbon monoxide (CO), nitrogen oxides (NOx), and propane exhaust gas odors. Incorporated emission control and noise attenuation components are included in one shell. Electronic air-to-fuel ratio controller is also available, which reduces up to 99.9% of CO and NOx emissions.
---
Original Press Release:
Full Line of Three-Way Catalytic Mufflers for Nissan Forklift Trucks from Nett Technologies

Nett Technologies, Inc. announces the availability of a complete line of three-way catalytic mufflers for all models of Nissan LPG-powered forklift trucks. The Nett® catalytic mufflers are direct-fit units, which are exact replicas of the original, non-catalytic mufflers they replace. This design reduces installation time and cost to a minimum.

Nett® mufflers include a built-in three-way emission control catalyst to eliminate the emissions of carbon monoxide (CO), nitrogen oxides (NOx), as well as the odor of propane exhaust gases. They are intended primarily for forklifts operating inside buildings where they can offer a substantial improvement in air quality, eliminate headaches and dizziness among workers, and help to meet occupational health and safety standards.

Nett® catalytic mufflers incorporate the emission control system and the noise attenuation components in one shell. The three-way catalyst represents the most effective technology for simultaneous reduction of carbon monoxide, nitrogen oxides and hydrocarbons emissions. An electronic air-to-fuel ratio controller, which enhances the performance of the three-way catalyst, is also available from Nett Technologies. Nett® Catalytic mufflers are one of the first three-way systems designed specifically for LPG forklift trucks. With the air-to-fuel ratio controller, the Nett® system reduces up to 99.9% of the carbon monoxide and nitrogen oxides emissions.

Propane exhaust gases contain substantial quantities of carbon monoxide, which is a big problem in all confined space applications. CO is toxic and poses a health hazard to workers. Typical symptoms include frequent headaches and dizziness but more serious poisoning including fatal accidents may occur after prolonged exposure to high levels of carbon monoxide. The occupational safety and health authorities (OSHA) regulate the maximum allowable levels of CO in the ambient air at the workplace.

NOx emissions in confined space applications attracted increasingly more attention in recent years. The toxicity of NOx components, which are also regulated by OSHA, are similar to, or higher than that of CO. Furthermore, NOx is known to chemically attack some industrial products. For example, newsprint stored in warehouses in the proximity of operating forklifts, undergoes discoloration - a phenomenon well known in the paper industry.

Nett® catalytic mufflers are a new, effective means of controlling these emissions from Nissan trucks. Cost analysis indicates that the application of catalytic mufflers is frequently less expensive than providing additional ventilation. Unlike the lean-biased air/fuel control kits, which provide some degree of CO control at the expense of increased NOx emissions, the catalyst is capable of simultaneously controlling both carbon monoxide and nitrogen oxides.

The mufflers are built entirely from corrosion resistant materials, including stainless and aluminized steel, for long life and durability. There is no compromise in the noise performance of Nett® mufflers; all are engineered to match or surpass the noise attenuation of the original Nissan mufflers.

Nett Technologies Inc. specializes in emission control products for engines, vehicles, and machinery used in the material handling, construction, and mining industries. A wide range of products available from Nett includes catalytic converters for diesel, natural gas, LPG, and gasoline engines, diesel particulate filters, and fume diluters.

For more information about catalytic mufflers call Nett Technologies at 1-800-361-6388 (North America) or 905-672-5453 or visit their web page at www.nett.ca