Catalytic Heater protects gas pipelines from freezing.
Press Release Summary: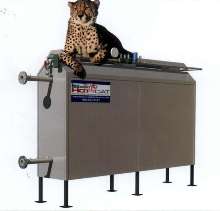 HotCat consists of multiple catalytic infrared heaters that apply heat directly to heat exchanger. Surface area is expanded by doubling pipe diameter in heat exchanger, which maximizes heat transfer and slows flow of gas. Available with stainless steel construction and in 5 capacities from 2.1 million BTU to 160,000 BTU bottle units, HotCat can be installed, without clearance restrictions, in all Class 1, Division 1 and 2, Group D areas.
---
Original Press Release:
HotCat Protects Pipelines from Freezing, Generates Virtually No NOx or VOCs, has No Open Flame

Independence, KS. September 4,2004. Bruest Catalytic Heaters, a manufacturer of freeze protection products for transmission pipelines and gas distribution systems, has introduced an advanced catalytic alternative to water baths for the protection of gas pipelines and downstream regulators.

Bruest HotCat consists of multiple catalytic infrared heaters that apply a precise level of heat directly to a custom-engineered heat exchanger. The heater design expands the surface area by doubling the pipe diameter in the heat exchanger. This maximizes heat transfer, while slowing the flow of gas. The result is highest-possible retention time and most efficient transfer of heat to the gas.

The Bruest HotCat can be installed, without clearance restrictions, in all Class 1, Division 1 & 2, Group D areas. It is also unique in that it is noiseless, and therefore ideal for installations such as town border stations.

This "direct heating" technology is unique in the pipeline heating industry; conventional systems use an open flame and ethylene glycol to indirectly heat pipelines in a water bath device. The hazards inherent in this method mandate that water bath devices be installed at least 15' from the Division 1 perimeter, producing substantial heat energy losses.

HotCat's design allows real time start-up and control from the utility command center. As demand increases on the pipeline, operators can respond immediately, directing the precise amount of heat, precisely where it's needed.

When demand subsides, downward adjustments are equally fast, minimizing energy consumption, saving time, labor and dollars and improving safety.

HotCat is the safe, efficient, environmental technology for efficient pipeline heating. The system does not use an open flame, and generates virtually zero NOX or VOCs. It has been honored by USEPA with the agency's Pollution Prevention Award for "preventing waste and conserving natural resources."
Custom-engineered to the application, HotCat is stand-alone and self-contained. The pre-plumbed fuel gas manifold that feeds the heaters is built into the unit, as are serpentine and U-tubes. Both are ASME-stamped, and certifications are provided. Electrical components are factory-installed and ready for hook-up.

HotCat can be installed to a new piping system, or existing equipment. Units are manufactured in five standard capacities, from 2.1 million BTU to 160,000 BTU "bottle" units. The framing and exterior of all Bruest HotCats are stainless steel and are virtually maintenance-free. Heaters are also stainless steel.
HotCat is an effective, efficient technology for the long-term freeze protection of natural gas lines. It is also applicable to the heating of high pressure gas from wellheads and distribution stations, natural gas at gate stations, high pressure gas from oilfields, and viscous oils, in order to reduce pump pressures.

Bruest Catalytic Heaters, Division of Catalytic Infrared Group, Inc. Independence, KS. (800) 835-0557 or (620) 331-0750.
www.bruestcatalyticheaters.com