Catalytic Converter fits 1998-2000 Honda Accords.
Press Release Summary: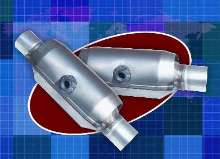 Specifically designed for Honda Accords equipped with 4-cylinder, 2.3 L engine, Universal-fit Model 70262 is configured with center-mounted O2 sensor port to facilitate installation. It features round body that measures 14 x 10 x 4 in. Converter meets emissions and performance requirements and is OBDII-compliant in 49 states. It is not for installation on OBDII-equipped vehicles in California.
---
Original Press Release:

Eastern Catalytic Introduces New Universal Catalytic Converter for Honda Accord


Langhorne, PA... Eastern Manufacturing, a world-class manufacturer of catalytic converters and related components, has just launched a new, universal fit catalytic converter specifically designed for 1998-2000 Honda Accords equipped with a 4-cyl, 2.3L engine. The new Eastern converter, Part # 70262, is configured with a center-mounted O2 sensor port just as the OE converter. This feature makes installation easier and trouble-free.

Eastern's new Universal Honda Accord catalytic converter has a round body and measures 14" L x 10" W x 4" D. Like all Eastern Universal Converters, the new Honda converter meets emissions and performance requirements and is OBD II compliant in 49 states (Not for installation on OBDII equipped vehicles in CA). It features Eastern's proprietary catalytic chemistry and high-flow design that maximize engine output and catalytic efficiency.

Eastern Manufacturing produces catalytic converters and catalytic converter components for both original equipment manufacturers and the aftermarket. In addition to Universal converters, Eastern also offers a full line of Direct-fit, High Performance, Diesel, and Heavy-Duty catalytic converters.

World-class quality and innovation has helped Eastern earn catalytic converter certifications in over 58 countries around the globe. Continual improvements in converter design, production, and product delivery systems have made Eastern the leading choice in both universal and direct-fit catalytic converters.

New headquarters and manufacturing facility
Eastern has established a new 115,000 sq. ft. headquarters and manufacturing facility in Langhorne, PA. Combined with other company locations in the area, Eastern's overall physical plant now encompasses over 230,000 total square feet of space. The new Langhorne facility incorporates advance-manufacturing technology, including automated workstations and a high-speed production line. The facility also has its own tool and die department for developing new equipment and repairing or maintaining current production assets.

According to George Schafer, President, "Eastern has enjoyed exceptional growth over the past few years and this new facility will help us to be in an ideal position to successfully and efficiently manage that growth while meeting the individual needs of our ever expanding customer base. With these new facilities in place, we expect to increase our work force by over 40% and triple overall production output."

Related