Cat5E to HDMI Converter is HDMI 1.3 and HDCP compliant.
Press Release Summary: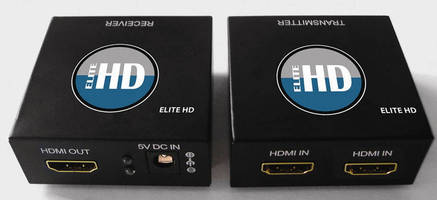 Allowing conversion for 2 HDMI devices to be run over single Cat5e cable, Elite HD-branded DHCT5 2x1 Cat5E to HDMI converter extends 1080i/720p up to 200 ft and 1080p/1,920 x 1,200 up to 100 ft. It automatically switches between devices via simplex switching technology and compensates for cable skew.
---
Original Press Release:

Centronics Introduces Elite HD-Branded DHCT5 2x1 Cat5E to HDMI Converter



STEVENSVILLE, Md. April 22, 2009 - Centronics, Inc. (centronics.com), a leading distributor of audio, video, and accessory products for the residential, commercial, and security markets since 1959, is proud to announce the launch of the Elite HD-branded DHCT5 2x1 Cat5E to HDMI converter. The new DHCT5 is now available with an MSRP of $299.99.

"The DHCT5 automatically switches between the devices via simplex switching technology," explained Tony Pelura, Centronics general manager. "It allows the conversion of two HDMI devices to be run over a single Cat5e cable, so it not only solves the problem of having only a single Cat5e wire, but it works as a switcher, as well."

The DHCT5 extends 1080i/720p up to 200 ft. and 1080p/1920 x 1200 up to 100 ft., is HDMI 1.3 and HDCP compliant, and compensates for cable skew.

"Centonics has been an industry leader for 50 years for a reason," concluded Pelura. "The DHCT5 is yet another way Centronics continues to provide its customers with the most up-to-date and useful tools for their installations."

EHD is a line of HD products branded by Centronics, Inc. Pricing and specifications subject to change without notice.

For more information, please visit www.centronics.com, call (800) 638-0741, or visit www.centronics.com to see the complete line.

About Centronics

For 50 years, Centronics has been a leader in the distribution of A/V, DBS, off-air, high definition, home theater speakers and accessories, and satellite and antenna products. As the industry has changed, Centronics has met those changes head on. What will never change is our commitment to provide quality products at reasonable prices. Centronics stocks products such as TV mounts by Video Mount Products, satellite distribution equipment by SPAUN, antennas and off-air accessories by Winegard and AntennaCraft, home theater equipment...from HD cables to speakers...by CWI, Speco Technologies, and Universal Remote Control.

At Centronics, our knowledgeable sales staff and customer service is second-to-none. Our technical expertise is the best in the business. And with thousands of parts in stock, our customers can be sure we have what they are looking for. With Centronics, every customer can feel confident that we are not just their distributor, but their A/V partner, as well.

Centronics, Inc.
325 Log Canoe Circle
Stevensville, MD 21666
T: 800-638-0741
www.centronics.com

More from Fluid & Gas Flow Equipment