CAT 6 Protector targets network racks and I/O ports.
Press Release Summary: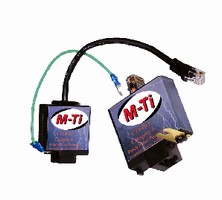 Molded in high-impact ABS, Model CTI is fully CAT6 compliant and backward compatible for CAT5 and CAT5E applications. Unit provides bidirectional protection capability and meets channel limits in dB per ANSI/TIA/EIA-568B.2. With plug-and-play modularity, user removes patch cable from existing patch panel, snaps in CTI device, re-inserts cable, and makes ground connection.
---
Original Press Release:

Meter-Treater, Inc. (M-Ti) of Lake Park Florida Introduces The New CTI - CAT 6 Modular Protector For Network Racks and I/O Ports



M-Ti introduces the new CTI - CAT 6 Protector for Network Racks and I/O Ports which is fully CAT6 compliant and is backwards compatible for CAT5 and CAT5E applications. The CTI is designed to protect exactly what you want so that you do not need expensive protected patch panels. Simple plug & play installation saves you time; all you need to do is remove the patch cable from your existing patch panel, snap-in the CTI device, re-insert the cable and make the ground connection.

Product Features include:
o State-of-the-Art Bidirectional Protection Capability
o High Speed Clamping
o Meets Channel Limits in dB per ANSI/TIA/EIA-568B.2
o Molded in High Impact ABS
o Plug-in-Play Modularity for Racks and I/O Ports
o Backwards Compatibility for Category 5 & 5E Networks
o 5 Year Limited Warranty

Suggested Retail Price is $79.00 and orders will ship from stock. Consult Meter-Treater for your specific application requirements (800) 638-3788. You may go to www.metertreater.com for additional product information or e-mail sales@metertreater.com.

Meter-Treater, Inc.
1349 South Killian Drive
Lake Park, FL 33403
(561) 845-2007
(800) 638-3788
sales@metertreater.com

Marketing Contact: April Skony
(561) 845-2007
askony@metertreater.com

Related