Cat 5 Audio/Video Extender provides dual audio/video output.
Press Release Summary: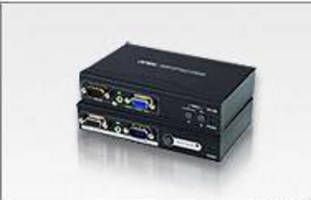 Model VE200 Audio/Video Extender has dual output that supports 1 local and 2 remote displays and offers video up to 1,920 x 1,200 at 60 Hz at 30 m, 1,600 x 1,200 at 60 Hz at 150 m, and 1,280 x 1,024 at 60 Hz up to 200 m. Product uses Cat 5e cable to connect local transmitting unit and remote receiving unit. Video quality adjustment is enabled by IR receiver, and IR remote control allows for screen on/off and video adjustment at remote site. Two RS-232 channels are also included.
---
Original Press Release:

ATEN Introduces New Cat 5 Audio/Video Extender System



VE200 provides dual audio/video output and extends transmission distance up to 150m

Taipei, Taiwan - ATEN International, a leading designer and manufacturer of advanced connectivity solutions, today introduced the VE200 Audio/Video Extender from its VanCryst(TM) Professional A/V Solutions range. The VE200 allows users to extend the distance between the computer system and the display monitor by up to 150m for video resolutions of 1600 x 1200@60Hz.

The VE200 Audio/Video Extender System uses Cat 5e cable to connect a local transmitting unit (VE200L) and a remote receiving unit (VE200R). Cat 5e cabling eliminates bulky traditional cables, and makes for a neat, efficient, uncluttered work environment. With dual video/audio output, the VE200 supports one local and two remote displays, and offers high quality video up to 1920x1200@60Hz at 30m, 1600x1200@60Hz at 150m, and 1280x1024@60Hz at 200m. The VE200 also provides two gain control modes for the sharpest picture quality, and video gain and compensation that are adjustable via an OSD.

For convenient usage, the VE200 is equipped with an IR receiver to provide quick and easy video quality adjustment, and also an IR remote control for screen on/off and video adjustment at the remote site. In addition, it provides two RS-232 channels for selection which allows touch screens to be included in the installation, which is especially suitable for interactive service applications.

The VE200 Audio/Video Extender System is ideal for installations where the display needs to reside in public view, but the system equipment can be safely tucked away. The Extender System is also useful for control and security purposes, where the system unit is in a secure area while the display is located in an area that is convenient for viewing. Other useful applications for the VE200 Audio/Video Extender System include: finance (the remote display of stock market information), education (the remote display of lectures and lessons to lecture halls and classrooms), and business (the remote display of addresses to overflow rooms, video conferencing, and demos).

The VE200 Audio/Video Extender System allows complete flexibility in installation set up, supporting various extension distances and a wide number of displays. When combined in an installation with ATEN's VB552 (VGA Over Cat 5 Repeater), the transmission distance can be even longer, up to 450m. In addition, to enhance the video quality in a long distance installation, the VE510 Video Synchronizer can also be integrated to compensate for signal delay. VE200R can also be combined in an installation with ATEN's Media Distribution Solution.

About KVM Switches-An Essential Server Management Device

A KVM (Keyboard, Video and Mouse) switch is an advanced, hardware-based solution that allows centralized access to multiple computers easily and conveniently from a single keyboard, monitor, and mouse. A KVM switch is useful in an extensive range of environments, suitable for SOHO users, small and medium businesses, and large corporations. Fundamentally, a KVM switch allows server rooms and data centers to optimize rack space in the IT environment, reducing costs and the clutter of keyboards, monitors and mice. Additional benefits include savings in energy consumption, server racks, cabinets, and floor space. Since a KVM switch provides access to a number of computers from a central location, IT professionals are no longer running from one server to the next, thereby streamlining workflow and increasing productivity. To meet the ever-developing needs of the globalized economy and the Internet, KVM solutions now have over-IP functionality for remote management capability that better fulfills the demands of corporations who need to manage multiple server rooms worldwide.

About ATEN

ATEN INTERNATIONAL CO., LTD. is specialized in connectivity solutions in information technology. Established in 1979, ATEN is today considered the leading manufacturer of KVM Switches worldwide. This prominent position was reached by continuously high investment in research and development, resulting in numerous patents and exemplified by the sophisticated ASIC, developed in the ATEN labs and manufactured by ATEN. The product range today covers hundreds of connectivity products, providing complete KVM solutions from entry level to the enterprise market. Among the customers of ATEN are large, companies with global operations, midrange and small businesses, as well as ambitious private users. For further information, please visit www.aten.com.

More from Fasteners & Hardware