Castings reduce road renovation time.
Press Release Summary: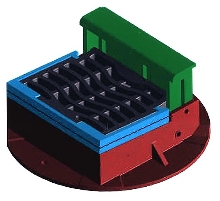 Final Cut castings eliminate need for pavement removal around street castings. Cover and rim elevation of manholes, catch basins, and hand holes can be raised by 1 1/2 in., regardless of thickness of cover. Cast iron construction provides corrosion resistance and durability. Combination of Final Cut rim, riser and cover allows use of BMPs for control of erosion and sedimentation.
---
Original Press Release:
New Final Cut Street Castings Reduce Installation Time & Cost In Asphalt Overlays.

www.final-cut.biz

(Brighton, Michigan) -- Conventional street castings have been used for decades to drain paved areas and to provide access to utility infrastructure beneath the pavement. But placing an asphalt overlay calls for the costly and time-consuming removal of pavement and concrete curb to adjust rim elevations. Now a new product called Final Cut from Brighton NC eliminates the need for pavement removal around street castings, thereby improving safety for road workers, reducing congestion for motorists and saving money for municipalities.

Final Cut castings allow the cover and rim elevation of manholes, catch basins, and hand holes to be raised by 1- inches, regardless of the thickness of the cover. The Final Cut cover provides the same strength and function as the cover it replaces. Previously, only steel adjusting rings were used for grade adjustments that are less than the thickness of the cover. Many road commissions and departments of transportation prefer cast iron components, as steel is subject to corrosion or
bending under the influence of car and truck traffic. Each Final Cut casting is made of cast iron, known for its corrosion resistance and durability in heavy traffic.

Historically during an asphalt overlay, a contractor removes the
asphalt and concrete curb adjacent to the affected castings. The crew then shims each rim to the elevation of the proposed overlay, reconstructs the concrete curb and replaces the pavement adjacent to the structure, and finally overlays the pavement. Adjusting conventional castings is labor intensive, time consuming and costly. Repaving a street may require a single day for placement of an asphalt overlay, and require TWO additional days just for the adjustment of rim elevations. These two additional days could be eliminated by using Final Cut castings, reducing motorists' frustration and road workers'
liability. Local residents and businesses can enjoy the benefits of the new road surface quickly, rather than having to endure barricades and detours.

How Do Final Cut Castings Work?
(For a full color illustration of the Final Cut application go to: www.final-cut.biz ) The installation of the Final Cut is
straightforward - the old cover is first removed from the catch basin and discarded, the riser is installed and secured with two setscrews and the new cover is installed. The rim elevation can be adjusted in minutes immediately prior to the placement of the overlay.

The installation of the riser and cover does not reduce the clear
opening of the casting; even the heads of the setscrews are recessed into the riser. Once the Final Cut riser and cover have been installed, additional risers can be installed by simply removing the cover, adding and securing the new riser and replacing the cover.

Final Cut street castings simplify road renovation in several ways:
* Projects are completed more quickly, reducing road worker liabilities and motorist inconvenience
* Customer access to local businesses is restored more quickly
* Total cost for overlay placement is reduced

Additionally, Final Cut's new rim design offers further benefits:
* In new developments, the base course of asphalt can be readily drained prior to the installation of the wearing course;
* The initial wearing course can be milled prior to placement of an initial overlay -- without hand chipping around the casting;
* The combination of the Final Cut rim, riser and cover allows the use of new BMPs for the control of erosion and sedimentation.

Final Cut castings are now available for municipal projects and can be furnished in a variety of sizes and shapes, from manholes and catch basins to hand holes. For more company details or to allow us to help find your casting solution, please contact: Dennis McNeely - (810) 227-6190 / dmcneely@final-cut.biz http://www. final-cut.biz

MEDIA OUTLETS: For more information, photos or to arrange interviews with company executives .contact Spread The News PR: (785) 842-8909 / todd@spreadthenewspr.com

More from Architectural & Civil Engineering Products